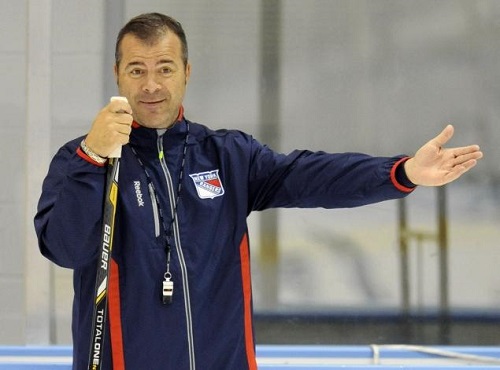 As the New York Rangers enter the 2014 portion of their 2013-14 campaign, it's safe to say that they've been quite the mediocre team this year. They've been hovering around .500 for the first three months of the season. Their low point was 3-7-0 (after their home-opening loss against Montreal when they returned from a season-opening nine-game road trip), and they've never been more than one game above .500 yet this season (they are 19-19-2 heading in to the New Year's Eve game against Florida). Fans that expected Alain Vigneault to get more results out of the talent on this squad have been very disappointed. Some of the more impatient fans are already calling for his head. But one area that even the most negative Blueshirts fan can't complain about is the Rangers Power Play. There's still over three months of regular season hockey remaining, but the Rangers PP Unit ranks in the top ten in the league for the first time in six years.
2013-14 – 8th (20.7%) – Alain Vigneault
2012-13 – 23rd (15.7%) – John Tortorella
2011-12 – 23rd (15.7%) – John Tortorella
2010-11 – 18th (16.9%) – John Tortorella
2009-10 – 13th (18.3%) – John Tortorella
2008-09 – 29th (13.9%) – Renney / Tortorella
2007-08 – 22nd (16.5%) – Tom Renney
2006-07 -8th (18.5) – Tom Renney
2005-06 -8th (18.9%) – Tom Renney
There is still a lot of hockey to be played, but the fact that they're above the 20% success mark on the man advantage is a huge improvement over previous seasons. The first two years after the 2004-05 lockout, Jaromir Jagr was the driving force behind the power play (24 PP goals in 05-06). Jagr's last year in New York (2007-08) saw the power play drop, but his point production also dropped by 25 points from the previous season. As bad as the Rangers were with the man advantage from 2007-2013, they always had a top notch Penalty Kill unit to balance that out (it ranked in the Top 10 all of those seasons except 2012-13). When you take a look at their power play in the postseason over that stretch, the lack of success was a major factor in making a deep run:
*Rankings out of 16 teams
2012-13 – 15th (4 for 44 / 9.1% – 12 games – eliminated in 2nd round by Boston)
2011-12 – 5th (13 for 73 / 17.8% – 20 games – eliminated in Conference Finals by New Jersey)
2010-11 – 15th (1 for 20 / 5% – 5 games – eliminated in 1st round by Washington)
2009-10 – MISSED PLAYOFFS
2008-09 – 11th – (4 for 31 / 12.9% – 7 games – eliminated in 1st round by Washington)
2007-08 – 10th (7 for 42 / 16.7% – 10 games – eliminated in 2nd round by Pittsburgh)
2006-07 -1st (13 for 54 / 24.1% – 10 games – eliminated in 2nd round by Buffalo)
2005-06 -16th (2 for 21 / 9.5% – 4 games – eliminated in 1st round by New Jersey)
Other than the 2006-07 playoffs, where a Chris Drury goal late in the 3rd period of Game 5 and a Maxim Afinogenov OT winner turned the tide of the series in the Sabres favor for good, the Rangers power play success tied right in to how deep they went.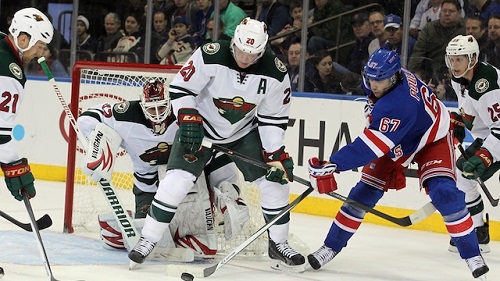 Besides the coaching change, fresh blood with the man advantage is the main contributor to the Rangers uptick in power play productivity. Benoit Pouliot (five PP goals – leads the team) was an off-season addition, Chris Kreider (four PP goals) was either in Hartford or Tortorella's doghouse, Derick Brassard (four PP goals) was a trade-deadline acquisition, and Mats Zuccarello (three PP goals) joined the team with fifteen games remaining in the regular season. Ryan Callahan is also among the team leaders in PP goals (four), but is still sidelined with a MCL sprain (he started skating again for the first time since the injury with a brace on the knee this past Friday).
Renovations and upgrades take time. The Rangers still have a lot of work to do before they can be considered a true contender, but a major crack in the foundation has been addressed and improved. Hopefully, the rest of the improvements come along quicker than the three-year renovation of Madison Square Garden.