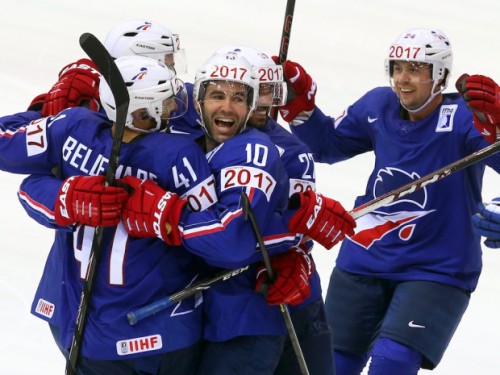 Watching Canada fall in the shootout to France a few days ago brought one thing to the mind: fluke. The loss to Italy solidified my thinking. Watching France come back from a 3-1 deficit with under four minutes to play in the third period against Slovakia brought a different though. Destiny.
Although it's still way too early to call the two successful upsets by the French squad the second-coming of the Miracle on Ice, it is now a fact that they can and have beat top teams in the competition.
And yes, I'm quite aware that the loss to Canada was in the shootout, in the first game, in round robins, against a Canadian team that's the national team equivalent of "who's available for some shinny on Saturday night at midnight?" But does any of that matter in this specific competition? The answer is a solid no.
As I mentioned before, this has the feel of a team of destiny. I'm not saying you should compare this team to the 1980 Olympic US team as I don't think they have that same winning destiny as the Miracle on Ice team. No, when I think of this French team, I think more along the lines of the kind of destiny of the Jamaican bobsled team in Cool Runnings. And yes I do mean the movie version of the events, as they crash in the finals but walk to the finish triumphantly (In real life, the 1988 Jamaican bobsled team crashed in qualifiers and didn't even make it to the first round)
Just think about it for a second. A 3-2 overtime win against the two-time-defending-Olympic-Gold-medallists Canada. A close but tough loss to fellow underdog Italy. Last but not least, scoring four unanswered goals in the third period to beat Slovakia 5-3. Doesn't it just feel like something could happen with this team?
This is the team that you cheer for if your team is out, a ragtag bunch led by Dallas Stars' tough guy Antoine Roussel and Stephane da Costa of the Binghamton Senators on offence and former Kings, Canadiens, Capitals, and Blackhawks' goaltender Cristobal Huet. In case you were wondering, Huet last played in the NHL for 20 minutes of the Hawks' entire cup run of 2010, after which he was loaned to Swiss A league team HC Fribourg-Gotteron. He has since signed with a Swiss B league team as of his contract expiration with the Hawks.
Is it possible that France's lack of depth and NHLers catches up with them and they lose every game going forward? Yes. But is it equally possible that, even if they lose to Sweden and the Czech Republic that they can still pull wins out of Denmark and Norway? Yes. And is it crazy to think that if they can beat Canada that they could hypothetically beat Sweden and the Czechs as well? Not all all.
So, going forward, just remember any team can win on any given night and this squad seems hellbent on proving they will do anything but surrender.