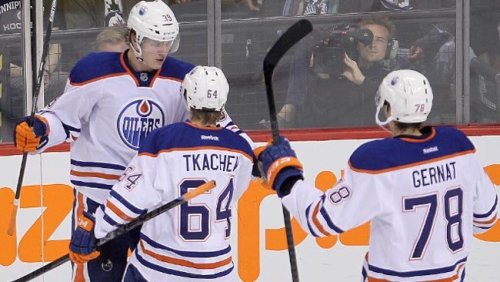 He's skilled, he's small, and he's wearing number 64. Many Oiler fans recall Nail Yakupov switching numbers this off-season, and were surprised to see another player with the rare number when camp opened with the rookie tournament earlier in September. We didn't think much of it, and then the kid dazzled, becoming the star of the rookie tournament and now, three games into his pre-season career, a solid contributor.
Who is he? He is Vladimir Tkachev, or as the one and only Lowetide likes to call him, Vladdy hockey.
Vladdy:
Tkachev is an extremely small player, standing in at only 5'8" and 163 pounds. He's 18 years old, but likely won't be growing much more considering his small frame. It's a bit of an issue, we can't overlook it. He's not physically built the way the small Marty St. Louis is, and he is very likely to take a physical beating at the NHL level should he ever make it.
That said, he is extremely quick on his feet, thinks the game at a high level, and has an incredible amount of skill for a player his age. He played in 20 QMJHL games with Moncton this past season, and registered 30 points, ten of which were goals. He added another nine points in just six playoff games as well, and emerged as one of the top offensive players on his team.
Vladdy boy was over a point-per-game at the junior level and displayed a high level of skill and speed. That said, he wasn't draft due to his size concerns, which as we mentioned above, are real.
The Opportunity:
Edmonton invited Tkachev to their rookie camp, and he accepted the invite. What he did with it was extremely impressive as well. He was easily Edmonton's best player during the four game slate, dominating in Penticton and then against the Golden Bears. Following his performance against other prospect,s he got the invite to main camp, which in itself was a pretty big accomplishment.
Since then, Tkachev has found a home in Edmonton's top six in three pre-season games, all wins for Edmonton. He has three assists, including two beautiful ones against the Jets in Winnipeg back on September 24th. He's also shown an ability to move the puck and play with skill, and maybe more importantly has shown the ability to handle the NHL level game physically.
He's impressed, and has been one of Edmonton's better young player in camp. He's done enough to stick around longer than many established prospects, and likely has done more than enough to earn a contract with Edmonton. He was given an opportunity to show that his skill is for real, and he's done that to this point.
The Contract:
Edmonton has until Wednesday, October 1st, to sign Tkachev to a contract. If they don't, he'll go back to juniors and re-enter the entry draft in June, where it is very likely he becomes a pick somewhere in the first three rounds. Elliotte Friedman of Sportsnet has reported that Edmonton is trying to finalize a contract with him, and that could come extremely soon.
Once he signs, or if, then the Oilers can assign him back to juniors, where he has two more years of eligibility. While he has shown well at NHL camp so far, he still needs to develop a little more, and the best place to do it is the junior level.
The Overview:
Personally, I believe the Oilers will sign Tkachev and assign him to Moncton for the season. In that event, we can give two thumbs up to Craig MacTavish and his scouting staff for finding a perfectly useful prospect in an area where other teams simply overlooked. Size matters in the NHL, but skill does too, and Edmonton's prospect system has been lacking it. Tkachev, as small as he may be, gives the team a breath of fresh air.