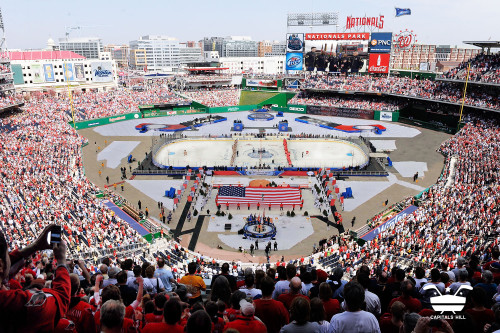 With the NHL schedule released on Sunday, the Washington Capitals will face the Chicago Blackhawks in the 2015 NHL Winter Classic. It was announced on September 20th that the Capitals would be hosting the Winter Classic. It will be both teams second Winter Classics, the Capitals first was an "away" victory over the Pittsburgh Penguins in 2011. The Blackhawks first was a defeat in 2009 when they played at "home" against the Detroit Red Wings. The venue has yet to be announced, but speculation says that it will be held in Nationals Park, home of the Washington Nationals.
In the last season the Capitals split a two game series with the Blackhawks, 6-4 Blackhawks in Chicago in the series opener, and 4-0 Capitals in Washington in the second to last game of the year.
The Capitals are looking to be the second home team to win the outdoor game. The Boston Bruins are the only team to win at "home" when they defeated the Philadelphia Flyers in 2009. The Buffalo Sabres to Pittsburgh in 2008, Chicago to the Detroit in 2009, Pittsburgh to Washington in 2011, Philadelphia to the New York Rangers in 2012, and Detroit to the Toronto Maple Leafs in 2014 have all lost as the home team.
Some are upset about the match-up, most of the other Winter Classic games have been "rivalry" games. With Pittsburgh out of the question, some thought that Philadelphia or Columbus would be better options. Philadelphia and Columbus are close enough for traveling fans to make the trip to Washington. Chicago, however, is father away forcing fans to probably fly to Washington and most likely stay overnight in hotels.