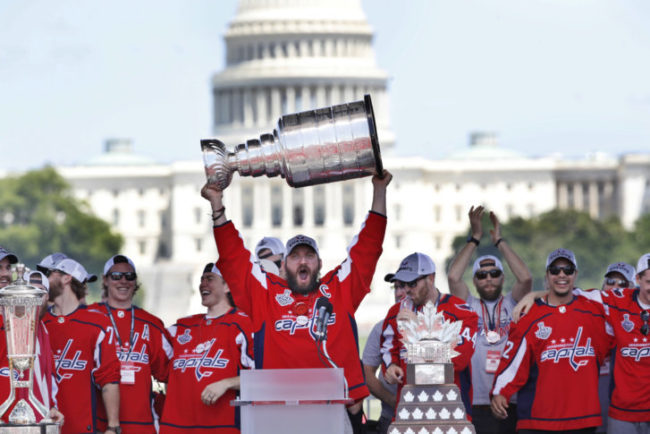 By now it's no secret that the Washington Capitals have been celebrating their first ever Stanley Cup championship in impressive fashion and acting like there's no tomorrow or an upcoming 2019 season. The city of Washington D.C. was able to celebrate its first championship parade yesterday for the first time in 26 years thanks to captain Alex Ovechkin and the Capitals.
The coverage provided by NBC Sports Washington was fantastic, to say the least, but how the parade marched on and exciting memories the Capitals provided was that much better. The joyous parade began on D.C.'s Constitution Ave. and ended at the National Mall, with the Washington Monument and Capitol Building at opposite ends of the Capitals and a vast crowd flooding in front of the team's stage.
Even before the celebration got rowdy on stage the Caps were sure to put their stamp on Washington's first ever celebration with Lord Stanley down Constitution Ave.
Let's take a look back and at all of the fun activities and top social media posts from the Washington Capitals 2018 Stanley Cup Championship parade.
Ovechkin got his groove on in the team's locker room and before the parade had even started…truly a Legend.
Ovechkin looks ready to celebrate with you Caps fans

Via @smithpelly on Instagram #ALLCAPS #StanleyCup #parade pic.twitter.com/1dRWNqXQlY

— Post Sports (@PostSports) June 12, 2018
Before we go any further, let's not forget this fan who made this awesome replica Stanley Cup from beer cans.
Ha wow, didn't expect to be in any photos from yesterday. #CapitalsParade pic.twitter.com/OwV66iL7wM

— Brian McK (@BMcK11) June 13, 2018
T.J. Oshie has already put the pressure back on the Caps for next season by trademarking the "back-to-back" chant.
#BACKTOBACK #BACKTOBACK #BACKTOBACK

(➡️ @TheUPSStore) pic.twitter.com/HgGyXa9lfc

— NBC Sports Capitals (@NBCSCapitals) June 13, 2018
Here's the Capitals' view from yesterday.
Proud to announce the Senate yesterday passed my and @ChrisVanHollen's resolution congratulating @Capitals on their first #StanleyCup victory, enshrining this historic win forever in the congressional record. Like @TJOshie77 said at the parade, let's make it #BackToBack! #ALLCAPS pic.twitter.com/LXZgVerABl

— Eleanor #DCStatehood Holmes Norton (@EleanorNorton) June 13, 2018
https://twitter.com/barstoolsports/status/1006601102974967813
At the 1:10 mark you can watch forward Evgeny Kuznetsov do his flying bird celebration with all of his Capitals teammates.
https://twitter.com/Capitals/status/1006672495229874177
Forward Brett Connolly salutes the crowd and chugs a Budlight.
Brett Connolly is a Stanley Cup champion pic.twitter.com/7MjVE10iOt

— Pete Blackburn (@PeteBlackburn) June 12, 2018
Ovi and the boys just having fun. What a group of guys…
Best part of the Washington Capitals Stanley Cup Victory Parade? Ovie leading everyone in a round of Seven Nation Army #ALLCAPS @thirdmanrecords #StanleyCup #StanleyCAPS pic.twitter.com/h9TOjprYQu

— Novagrrl (@Novagrrl62) June 13, 2018
Your 2018 Stanley Cup champs singing Queen's, "We Are The Champions."
🎶 "WE ARE THE CHAMPIONS!" 🎶#ALLCAPS #StanleyCup pic.twitter.com/dQjq1VUg9N

— Post Sports (@PostSports) June 12, 2018
Here's the moment that you've all been waiting for — check out Ovi's speech finale, especially at the 4:00 mark.
Alex Ovechkin's speech at the Washington Capitals Stanley Cup Parade is legendary. pic.twitter.com/LcvW7pVKIf

— Gino Hard (@GinoHard_) June 12, 2018
VIDEO: Fans can watch complete coverage and a recap of the 2018 Washington Capitals Stanley Cup championship parade here.
https://www.facebook.com/HockeyNightInCanada/videos/2063480387012660/
Tweet your NHL related questions to @KMcKenna_tLT5 to have them answered & be sure to use the hashtag #McKennasDigest
Kyle McKenna covers the NHL for Hooked On Hockey Magazine. He can be reached on Twitter (@KMcKenna_tLT5)