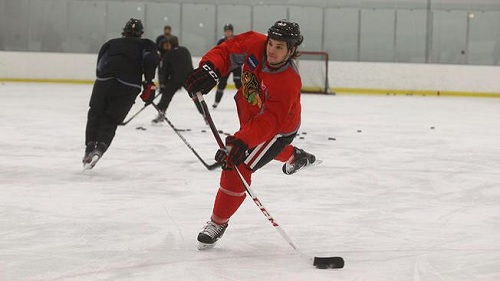 Dan Carcillo has bounced around from team to team for several seasons now. He does have a Stanley Cup ring with Chicago but he also has a collection of various jerseys in his closet.
Carcillo has struggled with injuries in his past, as well as of late, and his uncertain health has made him a risk for teams across the league. He hasn't made an All-Star team and it has quickly become popular to dislike Carcillo.
But there is value to a player with a nickname like "Car-Bomb." Carcillo is an NHL veteran. It can be squabbled about regularly, but the bottom line is that he has a lot of experience playing in NHL games. After being drafted by the Pittsburgh Penguins in 2003, he's spent time in various cities and understands the playing style of those organizations. He has nearly 400 NHL games in the bag, and seems consistently balanced with 45 goals and 48 assists. He's not considered a reliable point-producer, which detractors forget.
It should be noted as well that he has 7 goals and 7 assists during playoff games, along with a +9 rating.
Carcillo also brings a taste of grittiness to Chicago. It's true, that Chicago isn't longing for that style of play with a guy like Andrew Shaw in the lineup, if even that gritty style is even required anymore in an ever-changing, enforcer-less NHL. Still, his leather exterior does give a bit of relief and insulation for skilled highlight-reel players like Patrick Kane to have room to work.
As much as it leaves a bitter taste in people's mouths, Carcillo is a Stanley Cup Champion. He's been to the NHL's furthest challenge and helped conquer it, and he did it here in Chicago.
It's safe to say that the Blackhawks will not miss Carcillo for four weeks as he recovers from a right knee injury. They won't have to shuffle lines too terribly, and they won't have to tell any young names from Rockford that they have big skates to fill.
But Carcillo has had a successful career in the NHL. He's been around for 11 seasons and has a Stanley Cup ring to prove it. His name will be in the Hockey Hall of Fame, etched on that same cup as Bobby Hull, Wayne Gretzky, and Gordie Howe.
There is a saying in Chicago, "In Stan [Bowman] We Trust." It was General Manager Stan Bowman's move to bring Carcillo back to Chicago in the hopes that Carcillo would help get the Blackhawks to the Stanley Cup Finals once again. Maybe not everyone can see it, but just maybe the Carcillo case should be left in the trusted hands of Bowman.
Love Reading About Hockey?

Subscribe to keep up-to-date with the latest and most interesting hockey news!
| | |
| --- | --- |
| | We hate spam just as much as you |