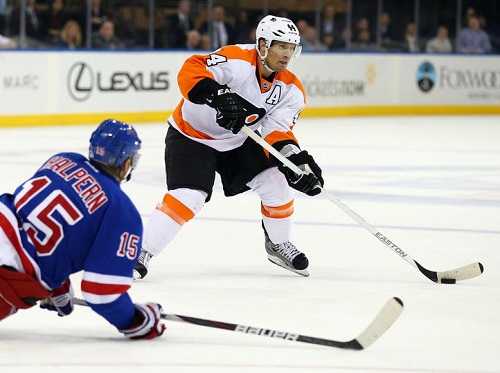 http://1.cdn.nhle.com/nhl/images/upload/gallery/2013/01/160351782_slide.jpg
(Photo by Elsa/Getty Images)
Kimmo Timonen's power-play tally was the lone goal scored by the Flyers on Tuesday.
Losing 2-1 to the New York Rangers, the Philadelphia Flyers are now 2-5-0 to start the season. They sit 13th in the Eastern Conference with just 4 points. They are now on a two game losing streak after a commanding win against the Florida Panthers. Sure it is only 7 games in but we have to remember that this is a 48 game season. Not a lot is going right for the Flyers and there are many concerning elements to their game that must be looked at. It was another disheartening effort by the Flyers on Tuesday and fans have every reason to be upset. The Flyers faithful should be worrying about their team but the question is to what extent? We can take a look at some of the problems that have come from these first 7 games.
1. Penalty-Kill trouble:
Once again, penalty trouble is an issue with the Philadelphia Flyers. A team that is aggressive and physical will take penalties, but there needs to be some discipline. The Flyers play with emotions and sometimes that will lead to stupid penalties. The team has fallen to 29th overall in penalty kill percentage as they are operating at a 67.7% success rate. For all the penalties the team takes, this just isn't acceptable. They got burned once again on Tuesday when Ryan Callahan's power-play marker ended up being the game winning goal. Frustration is a key precipitator to penalties so that might be an explanation. The team isn't having much success so they turn to grit and physicality to get back at other teams. It is important that the Flyers continue to focus on goal scoring and playing the game of hockey. They are a physical team but all the penalties are going to lead to their demise.
2. Power-Play trouble:
What has happened to that lethal power-play we saw against the Pittsburgh Penguins in last year's playoffs? The Flyers may have got their only goal Tuesday with the man advantage but it is still not looking convincing in any way. With all the elite talent, something has to give. The team seems to be way more concerned with passing and making the pretty plays instead of driving to the net and putting shots on the goaltender. There is no confidence and other teams are feeding off that and are able to shut it down. The opposing teams aren't scared of the Flyers power-play. It was ranked 6th in the league last season but now sits at a disappointing 23rd overall. Losing Scott Hartnell to injury won't help but Daniel Briere is back and he should help elevate the lacking numbers. We can keep making excuses such as the fact that they need some time to regain chemistry but how long can we say that for? It is the exact same personal as last year so it shouldn't be an issue. Look to the San Jose Sharks for an example of this. The Sharks have the exact same players running the exact same dominating power-play.
3. Claude Giroux and the first line:
Someone has to say it. This is not the Claude Giroux of last season. This is not the 93 point getter who put on a clinic against the Pittsburgh Penguins in the playoffs. This is not the NHL 13 cover boy superstar that Peter Laviolette called "the best player in the world". The question is who is this Claude Giroux? He appears to be an average player who has some nice hands and a good shot. We aren't seeing the inspiring plays that we are used to seeing. We aren't witnessing him putting the entire team on his back. We also aren't seeing any sort of energy or motivation. Through times like these, the Flyers need their newly appointed captain to inject some life into the team. He needs to make a statement. 4 points in 7 games and only 12 shots overall on net? Are you kidding me? Claude Giroux came close to putting 12 shots on net in just a single game last year. This is through seven games. There are rumours he is struggling with an injury that he suffered while playing overseas in Germany, but nothing has been proven. We can't make excuses from a rumour so it's time to put the heat on the captain. His play is having an effect on the players around him. Jakub Voracek was supposed to play on that first line with Giroux and have a break out year.
After a solid playoff last year, it seemed Voracek was poised to take a leap. It hasn't happened and Giroux might be a factor. When Giroux is on his game, he makes everyone around him better. We saw this with Hartnell last year as Giroux turned him into a 67 point player. Before last year when one heard the name Hartnell, they would think grinder, but now they think gritty all-star goal scorer. Voracek only has 3 points so far and was moved to the third line in advance of the game against the Rangers. It can't all be traced to Giroux but one must think had Giroux been flying from puck drop, Voracek and some other players may have posted better numbers. This ultimately poises the question of how daunting was the departure of Jaromir Jagr? Could he really have been the reason Giroux became an NHL elite player? There is no way Jagr is solely responsible for Giroux's success. Jagr was injured throughout last season and Giroux shined just as much when his line-mate was out of the line-up. One can' help but wonder though if he will be missed a lot more than expected. He is already finding success in Dallas and Flyers fans can't help but feel disappointed. It is early but what if there isn't a top line forward to go alongside Giroux? With Hartnell out for a while, is someone going to be able to fill in that gap? Does Voracek have the potential we all thought he has or was last season a fluke? Maybe it is Giroux that needs a boost? There are a lot of burning questions with this team and only time will give us the answer. The NHL season is only 7 games young but Philadelphia is not looking strong at the moment. The Flyers get a two day break and should use this time to regroup, rethink and evaluate their play because the NHL season is short and the margin for error is extremely thin.