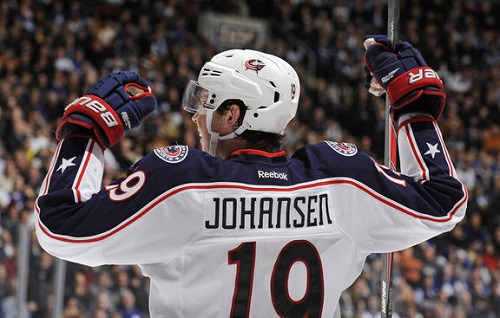 The standoff continues.
The Columbus Blue Jackets and their 22-year-old star center Ryan Johansen still remain far apart in terms of reaching a deal that would see the restricted free agent return to the Columbus lineup in the fall.
Just how far apart are they? Aaron Portzline of the Dispatch seems to think pretty far:
The two sides were believed to be at least $3 million apart per season on a two-year deal at that point, and it doesn't appear that much progress has been made. Asked this weekend if they were still far apart, one of the interested parties responded via text: "Hectares."
If you're looking up how far "hectares" is, its 2.47 acres. That's a short drive away! Still, $3 million per season seems like a huge gap considering the Jackets aren't likely offering him some cheap deal. Supposedly, the Johansen camp was asking for as much as $7 million per year, which is astounding on the surface. I understand he's 22 and coming off a 33-goal breakout season, but $7 million per year? It's either an extreme case of "ask high, meet in the middle" or it's an even more extreme case of delusion.
But what is Johansen actually worth? That all depends. If the Jackets sign him to a long-term deal, which doesn't seem to be in the cards given he could be an unrestricted free agent four years from now, the number is going to seem high (think the Cody Hodgson deal) but is set up to seem like a bargain if the player pans out.
In reality, though, a bridge deal is in the works here. We've seen it with P.K. Subban and Ryan O'Reilly; it's becoming the trend in the NHL so that teams can lock guys into friendlier deals and then slap on the long-term cuffs just before the player is to become an unrestricted free agent.
So if the bridge deal is the way to go for the Jackets and Johansen, it will be either a two- or three-year deal. As for the cash portion of this deal? That gets a little trickier.
Looking at other 30-goal scorers from last year, the one name who jumped out more than the rest was James van Riemsdyk. Prior to the 2012-13 season, the now 25-year-old winger got a six-year, $25.5 million deal from the Toronto Maple Leafs. At that point, he'd shown promise – one 21-goal, 40-point season – but he hadn't had a year like Johansen until last year's 30-goal effort. All the other names near Johansen in scoring – Alex Steen, Patrick Marleau, Jeff Skinner – have a track-record for this type of season and, as such, got steeper paydays. Until Johansen starts putting up those numbers with consistency, he's going to have to realize that he's not a $7 million/year player.
More realistically, something along the lines of two-years, $9/10 million is more in line with his production history and age. He gets a hefty bump in salary in the short-term (he made $1.945 million the last three years with bonuses) and has two years to play himself into the stratosphere he thinks he's already in.
Or someone could just step in and put in an offer sheet on him to expedite this whole process. That might make things more interesting, at least.
Follow me on Twitter: @TwoPadStackRW