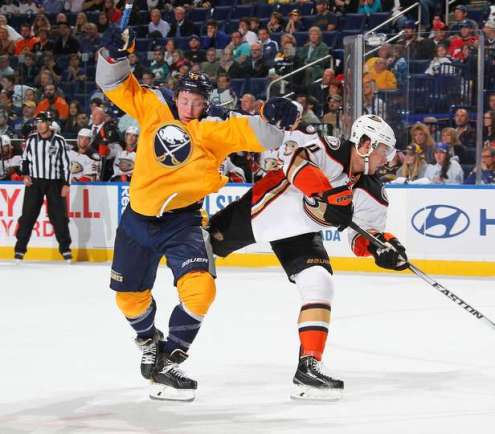 The Sabres are off to an 0-3 start. In those three games, they've been outscored 14-4. They've taken 16 minor penalties. Goalies Jhonas Enroth and Michal Neuvirth have combined for 117 saves, and that hasn't been enough to give the Sabres a win.
So what is wrong with the Sabres, and why can't they win?
First of all, to be fair, take a look at the Sabres' opponents so far. The Columbus Blue Jackets, Chicago Blackhawks, and Anaheim Ducks all made the playoffs last season, while the Sabres didn't have a shot. These opponents remain playoff caliber teams, while the Sabres are still trying to get there. It doesn't happen overnight.
Then there's the captain situation. The Sabres named Brian Gionta captain due to his experience and veteran presence. And he can't be expected to do it all, but he has four shots on goal over three games. The only time his name has come up was during the season opener when he took a penalty while the Sabres were on the power play. Columbus scored the go-ahead goal with Gionta in the box. Was it too much pressure to give the C to someone who hadn't played in a regular season game yet? Or is he still, along with the rest of the team, adjusting?
Overall, the Sabres' offense needs to step it up. Chris Stewart leads in shots on goal through the first three games with nine. Last night, the Sabres totaled 12 shots on goal. Somehow, one of last night's shots found the net. Of course, all that matters in the end is how many of those shots go in, but when they're not shooting, the Sabres are lowering their chances of scoring. Simple.
The defense needs to step up their game just as much. Enroth and Neuvirth shouldn't have to make 117 saves over three games. Opponents shouldn't be able to shoot that many times. Ted Nolan said there will be changes on the blue line, possibly giving Nikita Zadorov and Tyson Strachan some playing time for the first time this year.
The amount of penalties the Sabres have taken seems to really be killing them. It was an issue last year and continues to be a problem this season. Not only does it leave the Sabres shorthanded far too often, but it messes with team chemistry and endurance.
Tyler Ennis, who scored the lone goal in yesterday's 5-1 loss to Anaheim, brought it up after the game.
"The penalty killers get tired, and when you're in the box that much you lose a lot of energy," he said. "You can't get things going, the lines get jumbled up a little bit, and it kills momentum. It kills chemistry you might have with line mates."
The Sabres are a new team. Of the team that opened the 2013-14 season, ten of those players are still with Buffalo. This a group of guys that still has to get used to playing together. They need to stay out of the penalty box in order to do that.
And they need confidence. They need to expect to win. Mental strength proves to be more important than physical strength time and time again. Stewart announced during preseason that the 2014-15 Sabres are a playoff team. The rest of the team needs to be on board with that.
Ted Nolan wants to see not only confidence, but desperation.
"The only way you're going to stay in this League is you got to play with some kind of desperation, some kind of want that you actually want to play," he said in yesterday's post-game press conference.
Nolan was even more harsh in a radio interview this morning.
"Sometimes it just looks like certain players don't care. It's not just one or two. It's a handful."
Fortunately for the Sabres, tonight they'll face another winless team in the 0-2 Carolina Hurricanes. It makes things a little easier on the Sabres. However, Carolina has scored three goals in each of its losses, so one or two goals from the Sabres isn't going to do anything. They still need to play better than they have been.
"We've all gotta be 100% better than we've done the last couple games," Neuvirth said after last night's game.