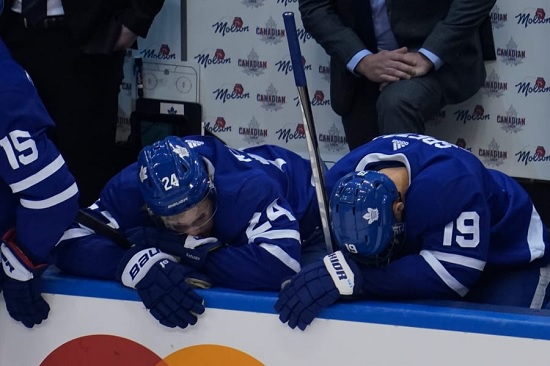 The Toronto Maple Leafs can be an incredibly frustrating team to cheer for.
Just ask Steve Dangle, who wrote a booked called "This Team is Ruining My Life."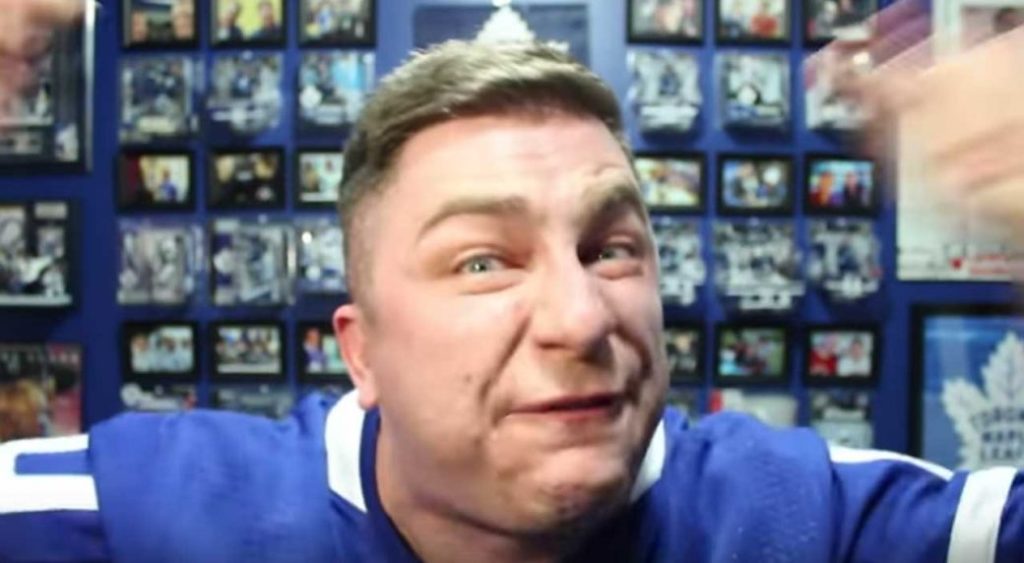 That's why I watched every second of this series and why after reviewing some regular season games I've come up with a recipe for what's wrong with the Leafs.
Lots. The End.
It sounds simple to say that, but they have issues with all three zones of the ice, and all three positions – Forwards, defencemen, and goalies – plus coaching. Here is a quick breakdown of what is wrong with each.
Let's start with the coaching, as I think this may be the shortest section.
COACHING
Sheldon Keefe and his staff took over a team that had clearly given up on Mike Babcock and immediately went on a roll, winning 15 of the first 20 games he was in charge. The high of the new coach can only last so long however, and Toronto cruised the rest of the season into a tie with Columbus for 81 points.
It's hard to give Keefe a full grade here but he did seem more open to changes in his lineup than Mike Babcock, even if they didn't always work out for the Leafs.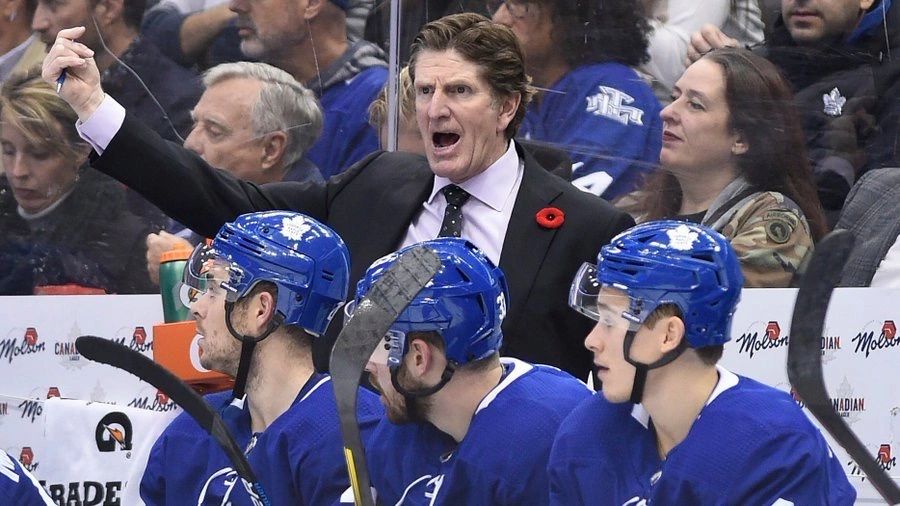 That said, Keefe's tendency to stick with things and be fluid both didn't seem to work out. He continued to trot out Cody Ceci as a top pair defenceman despite a 46% goals for mark and almost every play he had possession dying on his stick and resulting in a turnover or an icing. For an example of moving things two much, when Keefe went with his super line of Matthews, Tavares, and Marner it meant that Nylander had to move to the middle, it also meant that his 2nd and 3rd lines for a game 5 do-or-die had only played a grand total of six seconds together all season.
This doesn't event take into account his decision to keep a struggling Mikheyev (who hadn't started a regular season game in months) on the 2nd line until game 5. Or why Andreas Johnsson took over for Nick Robertson, the only Leafs depth forward to score a goal, in the deciding game. Johnsson had major knee surgery and returned before his initial timeline to play in this game.
All-in-all, until Keefe gets a full season under his belt, it's hard to judge him fully on what he can do for this team.
FORWARDS
Auston Matthews had a career year. He is going to be a 50 goal scorer and would have been this year without the global pandemic. Mitch Marner is a point-per-game regular season player with incredible vision and passes that sometimes make you wonder "how did he see that?". At his year end presser Kyle Dubas even went out of his way to defend Marner from criticism in some media circles.
John Tavares and William Nylander are both bonafide top-line threats with Tavares being a first line centre on 90% of teams in the league.
That said, the Leafs could not break through Columbus. They scored as many goals in the 3:34 of their game four comeback as they did 5-on-5 goals the rest of the series: Three. Now, after it took Tampa Bay eight periods to score a winner in game one against Columbus, most fans might feel better about the Leafs scoring woes, but one game doesn't define a season. The Leafs shot under 2% in the series, compared to Chicago's 14.5% in the play-in. That's despite their top 4 forwards making just under $40 million dollars on a $81 million dollar salary cap. One bad game is one thing, but constant underachieve is completely different.
Remember when they failed to beat their 42 year old emergency back-up goalie?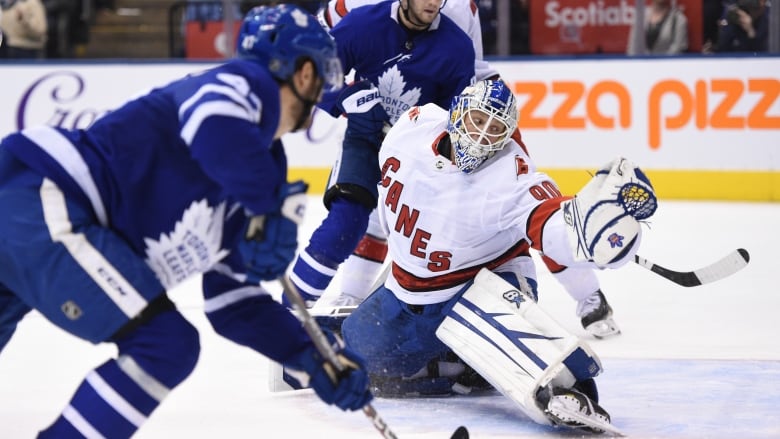 Hell, John Tavares hit the post in game 5 on a wide open net. Is that what $11 million gets you?
Mitch Marner had zero 5-on-5 points and only had one point 5-on 5 last year in 7 games versus Boston. Marner has 0 or 1 5-on-5 point in three of his four playoff series. After posting a ridiculous 94 points last year he needed to negotiate a new contract his offseason and the added expectations seemed to take away from the fun mood that Marner normally projects. Is that worth $10.893 million, the seventh highest cap hit in the NHL?
The other thing that money can't buy is heart. The Leafs basically played right into Columbus' system, controlling the puck but shooting from the outside all game. This also meant that Toronto's depth had very little chance to succeed. Instead of dictating the pace of play, the line of Alex Kerfoot, Kasperi Kapanen, and Nick Robertson had an expected goals for % of 46. That is terrible for them and shows that after the top two lines the Leafs couldn't compete with The Jacket's depth. This was brought on by the Kadri trade that, in hindsight, was a terrible deal for Toronto (more on that deal in the defence section).
You could even say the only time the Leafs showed "heart" in the series were one big hit by Kyle Clifford and one big fight by Jason Spezza that led to the epic comeback in game four.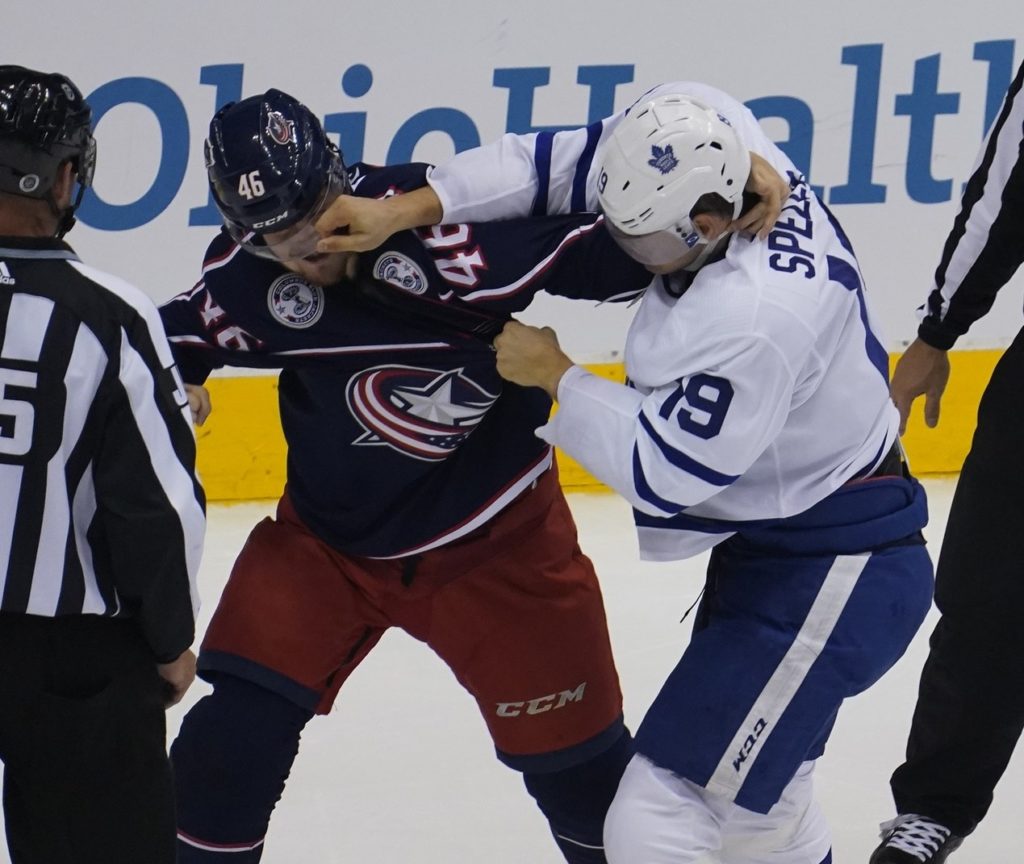 The so called "Core Four" and their cap hits are talked about endlessly, but the last point to take away from the forwards from this series is more a point on the team overall. Remember three years ago the scrappy, overachieving Leafs had taken the Capitals to six games only to follow that up with a gutsy seven game showing against a much better Boston team two years straight?
The reason I bring those up is because think of how quickly the perception the Leafs changed after signing their now-captain, Tavares. The Leafs went from being overachievers to underachievers from one April to the next, all because they added one piece, albeit a major piece. Their defence hasn't improved. Their goaltending is the same. Yet all of the sudden the media portrayed this team as a true contender, which in reality is not true.
Auston Matthews summed up Toronto's offence and season overall quite well when describing his thoughts on the team's season.
"I think there was a lot of ups and downs and obviously this is more of a frustrating way to end it obviously."
DEFENCE
It would be easy to write off the defensive issues this year to injuries. The Leafs played 70 games this regular season and only two players played in all 70, Matthews and Tyson Barrie.
Even Barrie couldn't get through the whole season unscathed however, as he got hurt in game five of the Blue Jackets series, adding the the loss of Jake Muzzin the Leafs felt in game three on a dangerous hit by Pierre-Luc Dubois. The subsequent awkward fall left Muzzin out of the series.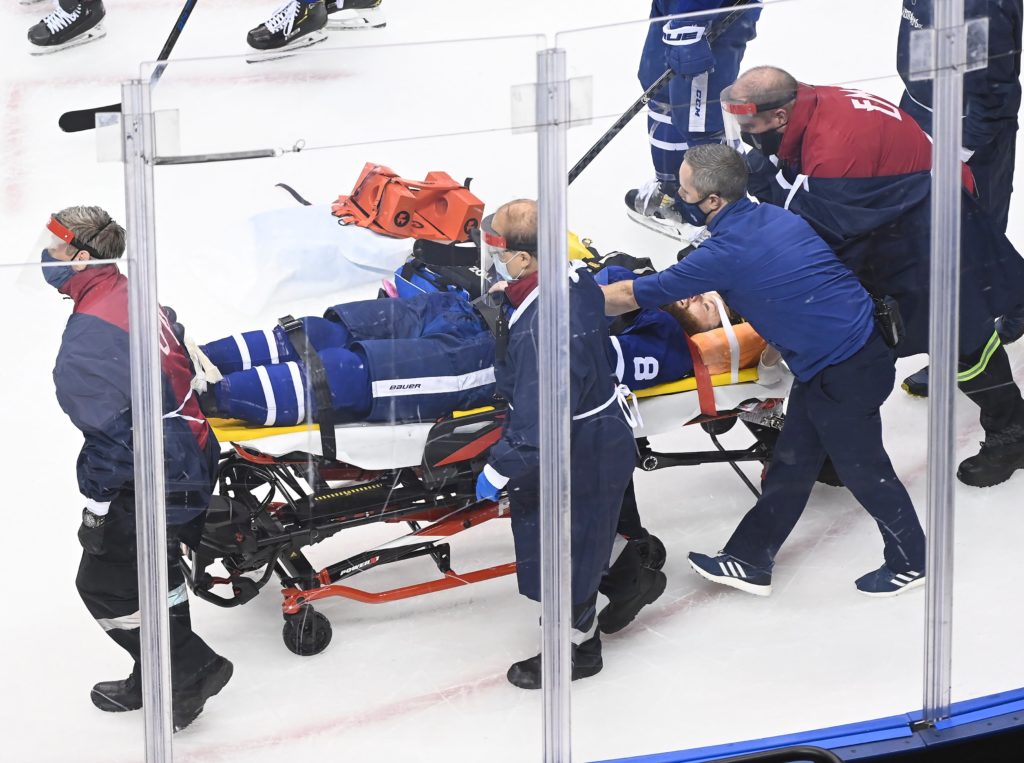 Those sound like terrible playoff losses, maybe only shown up by Cody Ceci's horrendous 46% goals for, but the regular season was worse.
Morgan Rielly missed 23 games and was clearly dealing with injuries that he played through for the first half of the season. Something that took him until January to admit. Although it was only a short period of time, when Rielly was on the ice and Keefe was behind the bench the Leafs actually won 70% of their games.
Muzzin only played in five more games than Rielly, meaning the Leafs only had their two best defencemen on the ice for 99 of a possible 140 games between them, or 70%. That means almost a third of the season the Leafs didn't have one of their top defencemen in the line-up.
The list goes on from there with Ceci missing 14 games, Travis Dermott also missed 14 games, and Justin Holl missing a couple of games as well.
Establishing the injuries were a major issue this season doesn't take away from the main issue with Toronto's back end. They were simply too easy to play against. Rielly and Muzzin (and sometimes Holl) aside, the Leafs got hemmed into their own zone and pushed off the puck too frequently. Dermott, Barrie, Rasmus Sandin, Timothy Liljegren, Martin Marincin and Calle Rosen not inspiring much fear in opponents. This was especially noticeable against the Blue Jackets hard forecheck when Muzzin went down and Dermott and Barrie had to play more.
Barrie was also a big swing-and-miss for Kyle Dubas. The Leafs sorely lacked the centre depth provided by Nazem Kadri – even if Alex Kerfoot could turn out to be okay in the future. Barrie was a power play specialist that played third line on five-on-five for Colorado, which is exactly what happened with Toronto. He couldn't be trusted in his own zone and it showed. Even his effect on the power play was bit overstated. He only ended up with one goal and four primary assists despite playing 2/3 of the season on power play one.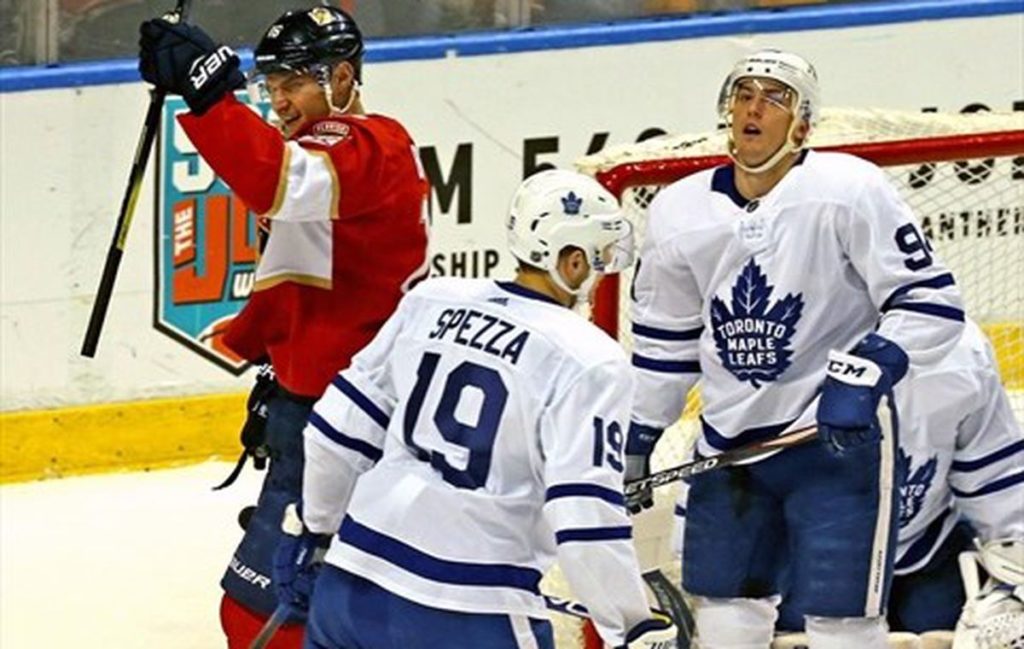 At the end of the day, the Leafs need more from their defence and they need more depth provided to them incase a couple of guys go down. As James Mirtle said in the Athletic, "something has gone wrong if they go into do-or-die games a year from now with Martin Marincin as the No. 7 option."
This offseason will one day be a judgement on Dubas and how creative he can get to strengthen the Leafs' D with no a lot of resources. Clearly they aren't good enough as is.
GOALIES
Look, it's hard to shit on Frederik Andersen too much. He had a down regular season that was still respectable with a 2.85 goals against average and 29 wins in a semi-shortened season.
He also had an incredible playoffs again, finished with a .936 save percentage and a shutout.
That said, Andersen has a tendency to let in a horrendous, should've-been-saved, back-breaking goals in deciding games. Not sure you believe me? Take a look at the two photos below. One is from this year's 2-0 goal by Liam Foudy in game five from a ridiculous angle and the other is from last year in game seven of the goal by Joakim Nordstrom. Look similar?
AND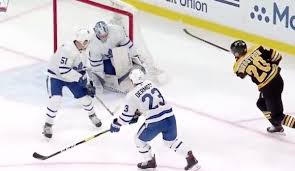 Neither of those shots should have went in, and both did.
Andersen's issue is never been that he isn't a good goalie, he is clearly a top 10 regular season goalie and a capable playoff goalie. The problem is that, in his years with Toronto, he's never been the better goalie in a playoff series and he has a tendency for the one weak goal that deflates the team instead of the one big save that brings the team back to life.
There has been a lot of speculation about Andersen's future in Toronto, especially after Kyle Dubas chose a "we'll see" approach in his end of season press conference. Maybe it is time fore a change of season for both Andersen and the Leafs. Hell, maybe we even see a trade as ludicrous as the one Nick Kypreos mentioned:
"I think we see a different goaltender for the Toronto Maple Leafs," said Kypreos. "Someone whispered to me yesterday 'keep an eye out for Matt Murray for Frederik Andersen."
Clearly there are a lot of things that go into "what's wrong with Toronto." We'll have to see how it plays out this offseason.
Until then, stay tuned for more great content from Hooked on Hockey Magazine, included another article later this week that deals with the issue of should Toronto trade one of it's Core Four?