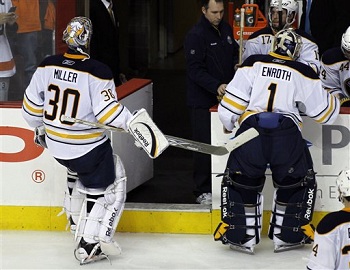 It was frustrating for Sabres fans to watch their team fall just short of the playoffs. A late season surge was not enough and thus they are waiting patiently for camp to start in late summer. The Sabres will have some cap room to do things in free agency. Let's take a look of who are free-agents for the Sabres and who they should go after. 2011-2012 salaries in parenthesis ().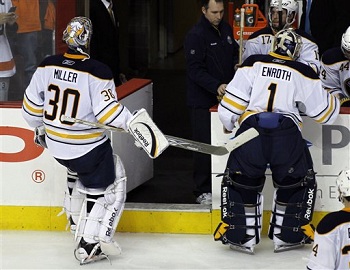 Unrestricted Free Agents
Brad Boyes ($4,000,000) Very unproductive forward in his time in Buffalo. Former 40-goal scorer, only had 8 goals and 23 points in 65 games this year. Looked very uncomfortable on the ice. No longer the scorer he was in St. Louis. Verdict- DO NOT RE-SIGN
Jochen Hecht ($3,525,000) Especially this year, injuries have been a huge issue for the forward from Germany. Concussions were especially an issue as Hecht only played 22 games this year, scoring 4 goals. He is 34 years old and is an injury risk. Verdict- DO NOT RE-SIGN
Alexander Sulzer ($700,000) Was a throw-in with Cody Hodgson in the Zack Kassian trade. Not known for contributing much offensively but had 8 points in 15 games as a Sabre. More of a defensive defenseman and played real solid while the Sabres were trying to make a run at the playoffs. Verdict- RE-SIGN
Restricted Free Agents
Patrick Kaleta ($907,500) Hometown favorite as he grew-up about 30 minutes south of Buffalo. Known for his big hits and agitating opponents. Not afraid to go after anyone or hit someone. Led team in penalty minutes with 116. Verdict- RE-SIGN
Tyler Ennis ($875,000) Move from wing to center absolutely helped him as the season came to an end. Line of Ennis, Drew Stafford, and Marcus Foligno was one of the hottest at season's end. Injury during the season limited him to only 15 goals in 48 games but his goal-total was only 5 less than last year over 82 games. Playing with the same line over a full season will only increase his production. Will definitely get a pay-raise. Verdict- RE-SIGN
T.J Brennan ($875,000) Appeared in 11 games as a Sabre as he was relied upon as an injury call-up. Played well in Rochester of the AHL and scored 16 goals. Needs to be more comfortable playing at a higher level. Think he has a shot of making the opening day roster next season. Verdict- RE-SIGN
As of right now, I would like the Sabres to only sign one player from free agency. This guy is a very talented forward who can put the puck in the net. I think he would be great on the Sabres top line, and could be the player that leads them to a long Cup run. Zach Parise, only 27 years old and in his full seasons, routinely scores 30+ goals. I would pay him 5-6 million a season for 4-5 years.