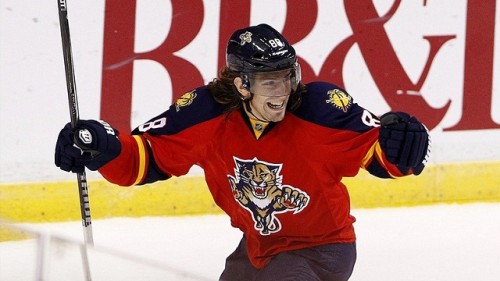 There's a lot that goes into a name, and there's even more that comes out of one. The emotions it evokes, the memories it conjures, the knee-jerk "Who the hell names their kid JACKMERIUS?" reactions it breathes into life-it's funny how a jumble of syllables can illicit pure love, venomous hate and every gut-feeling in between. Every so often, however, a name gets forgotten; with the ebb and flow of time, it gets buried in history, pushed to the darkest recesses of our brains until something rips it back into the light. And when everything comes flooding back, we're typically left with one response:
HOLY F***ING SH*T, WHAT THE HELL HAPPENED TO THAT F***ING GUY???
OK, I'm gonna go out on a limb here and recant that sweeping generalization, but yeah, that's pretty much what happens to me and my quasi-goldfish attention span on a near-daily basis. Lo and behold, it happened again: conveniently, it happened to pertain to hockey, and-unfortunately for you-you happened to end up on this webpage, where this vicious circle will continue. Sorry, babes.
At any rate, here's the rub-do you guys remember Peter Mueller? Former purveyor of the finest mop of hair in all of the realm, he-to me, at least-seemingly vaporized into the nether, going about his way without so much as a peep. It got me thinking (a risky undertaking in its own right), and armed with the time that only an unemployed college student on Summer break can have, I delved into my research*. This, my friends, is what I found-but first, here's a little bit of background info.
Born in Bloomington, Minnesota, Peter Mueller's hockey story began in 2003; cutting his teeth with the US National Team Development Program's U-18 squad, the then 15-year old skater plied his trade stateside over the course of two seasons, scoring 50 points over 57 games before shipping off to Washington State to kickstart his Major-Junior career. Drafted by the Everett Silvertips, Mueller enjoyed rampant success, notching 58 points off 26 goals through 52 games over the course of his inaugural campaign in the WHL. Eligible for the 2006 NHL Entry Draft, he was ranked as the sixth-best North American skater by Central Scouting, and was subsequently taken eighth overall by the Phoenix Coyotes.
After slaying the Junior ranks for one more season, the highly-touted prospect made the jump to the pros, joining his NHL club for the 2007-2008 season. If early indicators were to be believed, the 6'2″ centerman was on the way towards NHL stardom; as a 20-year old rookie with no seasoning in the minors, Mueller posted 54 points off of 22 goals, appearing in every game that year save for one. Sadly, all that glitters isn't gold, and after two consecutive years on a slippery downhill slope, Mueller requested a trade, and was sent to the Colorado Avalanche as half of a package for Wojtek Wolski (THROWBACKS EVERYWHERE).
Initially, the deal seemed to spark the sagging forward-he more than doubled his seasonal point total, surpassing his output through 54 games in his first 15 appearances with the Avs. Unfortunately, the newly-inspired winger met a lovely little lady named Concussion, hooked up with her twice, and then proceeded to bang her hot twin sister-Post-Concussion Syndrome-for the better part of the next two years. Sustaining two head injuries within the span of a few months, Mueller spent the entire 2010-2011 campaign populating the Injured Reserve, having an attempted return to action at the start of the 2011-2012 season foiled by symptoms of his PCS. In all, the once-effective Mueller missed 132 of a possible 164 games following his signing of a two-year, four million dollar contract extension, damning the former first-rounder to NHL purgatory.
Failing to receive a qualifying offer from the Avs, Peter Mueller, 24, evolved into an unrestricted free agent, three years before mandated by the CBA. Swooping into the frame, the Florida Panthers enter the story; offered a one-year, $1.725 million deal, the American forward accepted the team's proposal, joining the Cats in time for a lockout-shortened and incredibly disappointing 2012-2013 season. Playing on a line with eventual Calder Trophy-winner Jonathan Huberdeau and rookie pivot Drew Shore, Mueller enjoyed a mildly successful year, cooling off over the course of his 43-games played and scrounging together 17 points off of eight goals.
Not offered a contract renewal, Mueller sought other options to continue his athletic career, eventually settling on a one-year agreement to jump the pond and skate for the Kloten Flyers of the Swiss NLA. Placing third in league-wide scoring with 46 points through 49 games, the American export led his club to the Finals, losing to the ZSC Lions. Hopping timezones yet again, he came to terms with the St. Louis Blues on a one-year, two-way contract for the 2014-2015 season, but failed to make the major league roster out of training camp. Rather than plugging away in the minors, Mueller and his newly-called team split ways, mutually agreeing to terminate his contract so that he could hop on another flight back to Switzerland to suit up for the Kloten Flyers yet again. However, in a karmic twist, Mueller consummately failed to replicate his European success from the year prior, seeing his production dip from 0.94 to 0.50 points per game. Having secured a miserable tenth-place-out-of-twelve regular season finish and narrowly escaping relegation to the NLB, the Flyers opted to let Mueller walk, refusing to re-sign the forward to another contract.
And thus, it ends. That just about wraps up the tale of Peter Mueller; in Sparknotes form, it weaves a narrative of a talented offensive force, ravaged by injury and marred by bad luck, who traveled many miles in an effort to resurrect his NHL aspirations. Where goes he, now? No one really knows. Somewhere in the badlands of unrestricted free-agency, Peter Mueller's mesmerizing locks wander, waiting for another opportunity to lace up the old skates.
As for me, I'm going to play basketball, probably tear something important in my leg, and subsequently undo any physical gain I earn by gorging Chipotle after the fact. OHLEHDOIT.
*I throw the term "research" around very** loosely.
**OK fine gosh all I did was go on Wikipedia.