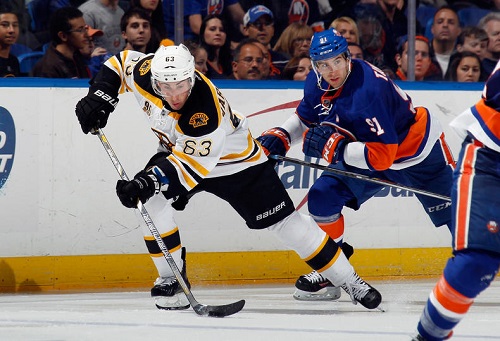 Through nine games, the Bruins were 7-2, and it was easy to ignore. But after losing three out of their last four (including some incredibly disappointing losses to the sub-.500 New Jersey Devils and New York Islanders), the Bruins' team success can no longer cover up the dismal play of Brad Marchand. The Boston Bruins are built on the philosophy that balance and depth wins games in this league, and when players aren't pulling their weight, it's hard not to notice. Marchand's lackluster start isn't just an inconvenience for the Black and Gold. It's a disaster.
Maybe the signs of a slump were evident last year. In the Stanley Cup Finals, Marchand didn't record a single point, and ended the series as a -3. So far this year, Marchand has four points (a goal and three assists) and currently has the same -3 rating. That performance isn't good enough for a player who was expected to put up numbers offensively for Boston, and without Marchand contributing, the Bruins are a dramatically different team. Even this year, in the games where Marchand scores a point, the Bruins are 2-1. If there's one thing the Bruins can't afford to be, it's one-dimensional. So far this season, that's exactly what's happened. Through the first thirteen games, Boston's top line has scored a total of 34 points and together is a stunning +23. The Bruins next three lines have put up 34 points (and a +5 rating) combined. While Boston has to be psyched with the production of the Milan Lucic – David Krejci – Jarome Iginla line, this is a team that needs that offensive balance to be successful.
It's not just that Brad Marchand isn't scoring. He's been pretty much invisible. Coach Claude Julien tried to get Marchand going by dropping him down to the third line, but due to textbook goon John Scott of the Buffalo Sabres knocking Eriksson out of commission, Marchand's continued playing with Patrice Bergeron and Reilly Smith. And things haven't gotten much better. For Marchand, it doesn't seem to be a matter of effort, and in fact, it might be the exact opposite: he looks like he's trying too hard. Rather than playing the north-south style of hockey that put him atop the list of Bruins goal scorers, Marchand's been holding the puck longer, and trying to get a little too cute in the offensive zone. That's lead to an increase in turnovers (he's the worst on the team in turnover differential at -5), and it's definitely contributed to his less than stellar +/-.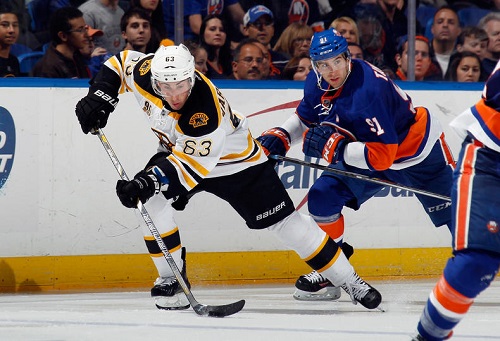 If Bruins fans are looking for some good news surrounding Brad Marchand, it's true that he's a little bit of a slow starter. Over the past three years, Marchand's put up a combined eleven points during the Bruins first month of play. Comparatively, he's heated up as the season progresses, scoring a combined 28 points in month #2. With the calendar turning to November, Marchand has a chance to turn it around, especially with games coming up against the weaker defenses of the Dallas Stars and the Florida Panthers.
When they're getting contributions from all four lines, the Bruins are one of the elite teams in the NHL. Right now, they're a little too top heavy, and the ineffectiveness of Brad Marchand is a big reason why. The silver lining is that the Bruins are 8-5, and they're on track to contend for the Atlantic division crown. While the Bruins can still win on the strength of their goaltending, if this team has any aspirations for a playoff run into June, they'll need that offensive balance. For Boston's sake, let's hope Brad Marchand gets it going sooner rather than later.