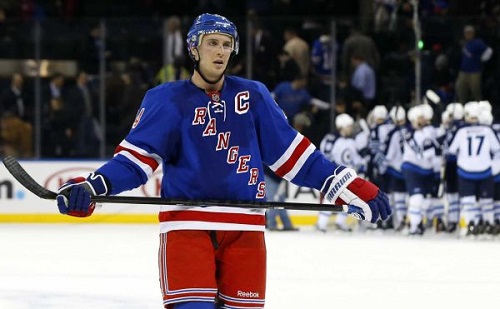 The NHL season isn't even a month old yet, and the Rangers have already dealt with their fair share of injuries. They opened up the year with no Carl Hagelin (due back next week), lost Rick Nash to a concussion during their third game of the season (he's currently on the IR and there is no timetable for his return), and now the Captain is down. After missing the season-opener in Phoenix to give his shoulder extra time to heal, Ryan Callahan will now miss three to four weeks with a broken thumb. He suffered the injury in New York's 2-0 victory over Washington last Wednesday night while blocking a shot from John Carlson.
It's been widely documented that Callahan brings leadership, a blue-collar work ethic, and toughness to the ice each and every night. While the Rangers will sorely miss those aspects of his game, they're also going to miss his offensive contributions. Cally was playing on their top line, had three goals, and, as pathetic as this sounds, he is one of three forwards (Brad Richards and Derek Dorsett are the others) to light the lamp for the Blueshirts so far this season.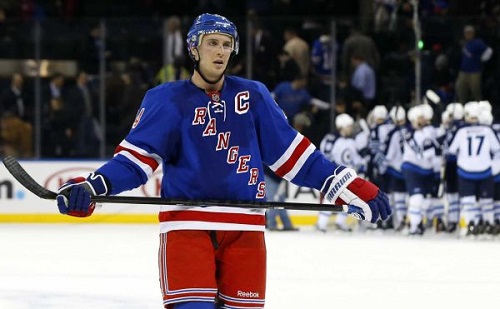 Considering how bad the Rangers looked in their 4-0 loss to New Jersey on Saturday night (the Devils first win of the season), there isn't much to point to in terms of positives to build on right now. The Rangers are missing three of their top six forwards, and all-world goalie Henrik Lundqvist has looked very human so far this season (to his credit, he is holding himself accountable for the Rangers struggles). The Rangers have four full days between the loss to the Devils game and Thursday night's game in Philadelphia (one of two teams with a worse point total than the Rangers in the league, the Buffalo Sabres being the other) to rest up and try and build some chemistry on the constantly changing line combinations. After Thursday, the Rangers have one more game remaining on their season-opening nine-game road trip (in Detroit on Saturday) before finally playing a home game against Montreal on Monday night.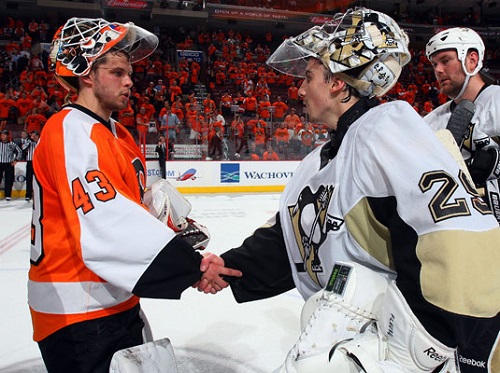 Martin Biron Retires
After being waived by the Rangers and being sent down to their AHL affiliate in Hartford last week, Martin Biron has decided to instead retire after sixteen NHL seasons. Besides being the Blueshirts back-up goalie for the previous two seasons, Biron spent the bulk of his career in Buffalo (1996-2006) before being dealt to the Philadelphia Flyers midway through the 2006-07 season. He played in Philadelphia through 2009, which included a run to the Eastern Conference Finals in the 2007-08 season. Before coming to the Rangers in the 2010-11 season, Biron spent a year as the Islanders back-up netminder. In 508 games, Biron amassed a 230-191-52 record with a 2.61 GAA, a .910 save percentage (ranks 24th on the all-time NHL career list), and 28 shutouts.
Roman Hamrlik Also Retires
The first overall pick of the 1992 NHL Draft has also decided to hang up the skates. Roman Hamrlik's career spanned 21 seasons and seven different teams (Tampa Bay, Edmonton, NY Islanders, Calgary, Montreal, Washington, NY Rangers). The first draft pick in Lightning franchise history tallied 155 goals, 483 assists, and 1408 penalty minutes in 1395 NHL games.
Love Reading About Hockey?

Subscribe to keep up-to-date with the latest and most interesting hockey news!
| | |
| --- | --- |
| | We hate spam just as much as you |