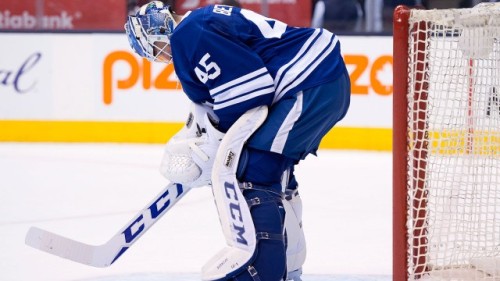 "How would you like it in your job if every time you made a small mistake, a red light went on over your desk and 15,000 people stood up and yelled at you?" – Jacques Plante.
Here are the facts: Jonathan Bernier has yet to record a win in 9 games this season.  He currently sports a 0.888 save percentage, good for fourth worst in the entire league.  Opposing players could shoot a massive inflatable beach ball his way and it would likely somehow find the back of the net – at least that's how it seems.  Bernier has been bad… like really bad.  On the bright side, I'd like to think I've figured out why.  For what it's worth, here are my two cents on the messy matter.
Bernier's on-ice struggles boil down to one thing and one thing only: confidence.
My work here is done.
Kidding!  Despite his poor performance this year and predominantly disappointing 2014-15 season, Jonathan Bernier has athletic abilities sufficient to be a competent #1 netminder in the National Hockey League.  Athletic abilities, however, cannot compensate for large deficiencies in confidence.  Although team expectations are very low this season, Bernier is playing in a hockey market more pressure-packed than a can of sardines.  His confidence has catapulted off a cliff and he's now clawing to retain whatever scraps of it he can.  The confidence of an athlete in a particular situation generally stems from one or more of the six elements in the figure below: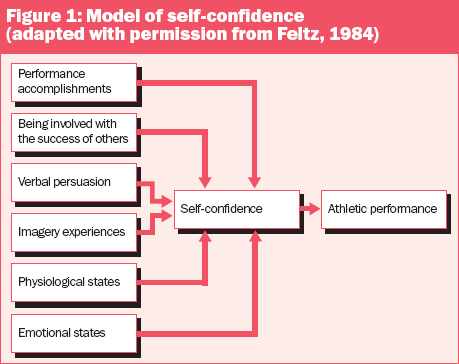 Let's analyze this figure in relation to Bernier's situation, shall we?
● Performance accomplishments: repeated personal failure – precisely what Bernier has experienced lately – diminishes confidence.
● Being involved with the success of others: He's a Toronto Maple Leaf. Need I say more?
● Verbal persuasion: Although I am unaware of the conversations that transpire behind closed doors, Babcock has not been shy voicing his displeasure with Bernier's play for the past few weeks.
"The bottom line is, we're in the winning business. You've got to earn your own confidence. That's how the league is." – Mike Babcock.
Looks like Jonathan's on his own for this element.
● Imagery experiences: Not applicable; obviously I am not qualified to speak on behalf of the thoughts that circulate through the goaltender's head.
● Physiological states: I can imagine that Bernier has been overwhelmed by pressure and stress.  It may be exacerbating his physical state.
● Emotional states: It would appear as though Bernier has been unable to properly tame any feelings of self-doubt and anxiety.
As a result of the pressure Bernier feels, it is quite plausible that he is overthinking his play off the ice.  It is not uncommon for anyone to fall victim to this habit as it applies to everyday situations.  Observe the following scenario: you make a mistake at work, feel more embarrassed than did Patrick Stefan when he missed a gaping net in 2007 (actually, I don't think that's possible… see video here) and receive an earful from your boss.  You have two choices.  You can either: a) briefly reflect upon the situation for learning purposes and then refuse to pay it another ounce of your energy, or b) dwell on the series of events, loop a replay of the situation in your mind, and allow the instance to gnaw away at your confidence.  Although I cannot make an assumption about the thoughts that penetrate his mind, Bernier's on-ice performance, body language, and self-critical comments all point in the direction of option b) to some degree.
It's quite possible that Jonathan is overthinking his motions on the ice as well.  Brief anecdote: I played hockey competitively for seven years.  In my final year, I was playing at the Midget A level (girls hockey levels are as follows: select, B, BB, A, AA) and if you didn't know any better, you'd assume my team was competing for the Stanley Cup.  Winning had, without a doubt, become the primary interest of the majority of parents, players, and coaches.  I remember experiencing a rough patch performance-wise near the end of the season and feeling as though one mistake could very well result in me being benched for any number of shifts.  Subsequently, my on-ice mentality was automatically altered and my play further suffered; I was in my own head too much.  In a desperate attempt to move in the right direction, I was moving further in the wrong direction.  Bernier may very well be experiencing something similar.  Mike Babcock, too, suggested that he may be trying too hard.  Reflecting upon that season, I recall playing some of my best games when very little thought was put into my on-ice motions.  I was simply reacting spontaneously to the play.  I believe that Bernier would benefit from relying more on his physical instincts as well.
The cure for his woes can be summarized in 3 easy steps:
Step 1. Relax and spend time – whether it be a few hours or portions of a few days – away from the game.
Step 2. Watch the movie "Elf"…because it's an excellent movie.
Step 3. Empty the mind and just play.
I truly hope Jonathan Bernier can rediscover his game.  It's never fun to see a professional athlete trapped in a funk – unless it's Milan Lucic.  Man, I can't stand that guy.  Anyways, only time will tell.
Love Reading About Hockey?

Subscribe to keep up-to-date with the latest and most interesting hockey news!
| | |
| --- | --- |
| | We hate spam just as much as you |