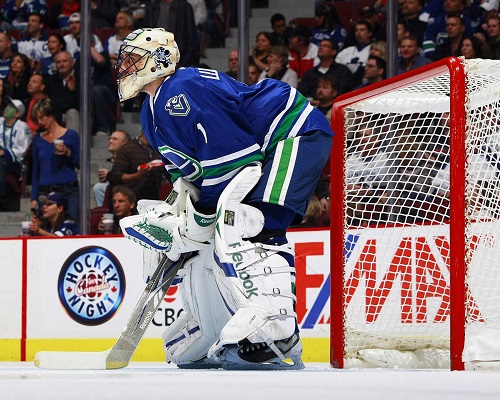 Imagine I give you a piece of a paper, it had "Goalie A, Goalie B, Goalie C" written on the piece of paper, what if I told you that goalie C was Roberto Luongo and that he had stats on par with Goalies A and B who were possible Hall of Famers? Would you believe me? At first I wouldn't believe it either, but after looking at stats and history of Roberto Luongo, I think I'd believe it too. First off if you don't know who Roberto Luongo is, he's a hockey goaltender that plays for the Vancouver Canucks, he was drafted 7th overall by the New York Islanders in the 1997 NHL Entry Draft.
Now many believe Roberto Luongo isn't a great goaltender and the Vancouver fan base likes to ridicule him whenever they get the chance, but after looking through stats, I now wonder why he's been ridiculed so much? Sure he has the bad game once in a while and he will let in the occasional soft goal, no NHL goalie is perfect and I think each one of them knows that. A goaltender who is 17th all-time in career wins and 2nd among active goalies in shutouts shouldn't be under-appreciated and underutilized as Roberto Luongo is right now in Vancouver.
Yes I do agree that Luongo made his bed when he took that massive contract a few years ago, and looking back at it, It was a good idea, he was productive, he was hot, and he was the best goaltender the Vancouver Canucks have had since Kirk McLean in the 90s, but if you're going to take a 12 year contract, I think you should also think about what will happen in the future. But still, a goaltender like Roberto Luongo shouldn't be sitting on the bench watching the Real Housewives of Vancouver on an iPad.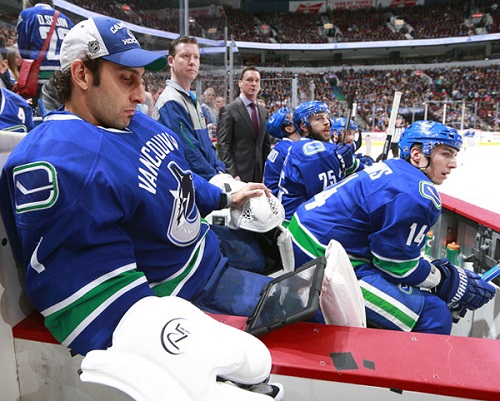 Roberto Luongo in my opinion is probably one of the best season goaltenders I've seen play in the NHL, he holds such records as most shot's faced in a single season, and most saves in a single season. His career SV% is .919 which is ranked 5th all-time among all NHL goaltenders. Not to mention he's 5 shutouts away from passing Patrick Roy on the all-time list. In 2003-04 when he played for the Florida Panthers, he posted a .931 SV% which is the 12th highest in NHL history. That same team went 28-35-15; Luongo recorded 25 of those victories in that season. That same Panthers team gave up 34.5 shots per game which is a league worst by far. He also owns every single Canucks goaltending record, most saves in a game, longest shutout streak (242:36), most wins in a season, most games played in a season, most shutouts in a season, lowest GAA in a season, most shutouts in career as a Canuck, most wins in Canucks history.
If that didn't prove to you he was a great goaltender, well his playoff numbers are just as good. Yes that's right..I said playoffs. Although he's played all his playoff games as a Canuck, he's actually put up decent numbers. His SV% ranks him 20th all-time tied with Chris Osgood and only 0.002 behind Patrick Roy and 0.003 behind Martin Brodeur. His playoff GAA ranks him ahead of Terry Sawchuk and puts him in the top 50 among all NHL Goaltenders. His 32 playoff wins ranks him 35th all-time and 6th among active goaltenders. He holds the record for most shots faced in a playoff game which was also a Canucks record as well.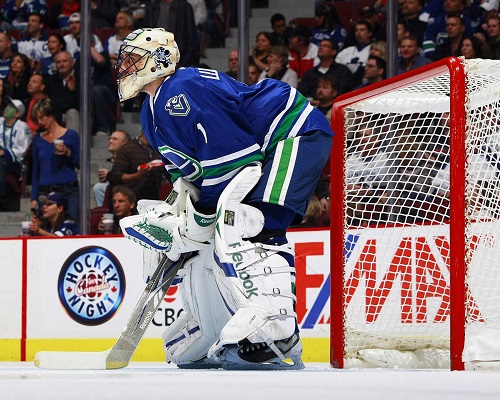 So in short, Roberto Luongo is a great NHL Goaltender and doesn't deserve to be riding the pine in Vancouver behind Cory Schneider, I understand you ride the hot goaltender, but if you have two good goalies who have been good sportsman throughout this season, why not ride both of them? The media can spin it anyway they want too, and call it a "goaltending controversy", but both players just want to win, so if you want to "WIN", maybe play both goalies.