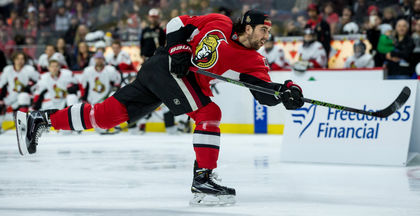 There isn't a more anger-inspiring figure in Ottawa than Jared Cowen.
With the departure of Jason Spezza two summers ago, it was Cowen who became the Senators' whipping boy – often the recipient of hate and vitriol from callers on local radio shows. Some of that hate has been deserved – his penchant for forgetting how to play hockey has surfaced more than once – but other times he was simply the easy target after a bad game from his teammates.
But for as rocky a ride as it has been, it may be over soon enough.
With the trade deadline fast approaching, Cowen's hefty contract is more digestible because of some crucial details. As originally reported by TSN, a team up against the cap can buy him out and use the resulting $650,000 salary cap credit next season as a form of cap relief. In addition, any team that buys him out will retain only a third of his salary, rather than the usual two-thirds.
These two facts alone could have an immeasurable impact on expanding the market for Cowen. So in light of recent information, and based on existing rumours and pure speculation, here are some potential trading partners for the Sens (to be clear, the trades described below would likely need to involve more pieces before either team signs off):
Kevin Shattenkirk, St. Louis Blues
The Sens are in the market for a top-four defenceman to shore up their sieve-like defence and the 26-year-old Shattenkirk has been rumoured to be available for a couple of months now. In return for his star blueliner, Blues GM Doug Armstrong wants an offensive weapon who can help the team's sputtering offence that has scored 126 goals (13th in the league, 11th among playoff teams). A deal centring around Cowen and Mike Hoffman – who is on pace to score just under 40 goals – for Shattenkirk would make sense for both teams. Hoffman provides the scoring punch Armstrong desires (and if all goes well he could be rewarded with a long-term contract); Cowen can slide into the third defensive pairing, or simply serve as an insurance policy as the Blues make a run for the playoffs and the Cup; and the Sens get a positive possession player (53.49 five-on-five CF per cent) with proven offensive talent.
Kyle Okposo, New York Islanders
On the surface it would seem unfathomable for the Islanders to even think of trading Okposo – he's the leading scorer on a playoff team – but his contract situation casts some doubt on his future in New York. Approaching free agency, Okposo is likely to demand more than the $4.5 million he currently makes when he hits the market, which isn't a conversation the Isles have, to this point, seemed welcome to. The Sens, meanwhile, have the aforementioned Hoffman – another soon-to-be free agent – who is also likely to command a much higher salary than the $2 million he currently earns, but still less than Okposo's asking price. By dealing away Cowen's hefty cap hit and the potentially big contract of Hoffman, the Sens will likely have more money to offer Okposo. And with Travis Hamonic still on the Islanders' roster, despite asking for a trade to be closer to home, acquiring Cowen could be a move that makes the former expendable.
T.J. Brodie/Kris Russell, Calgary Flames
As it is with the Nashville Predators, although without the high profile, defence is a position of strength for the Flames. With such names as Mark Giordano, Dougie Hamilton, Brodie and Russell filling the top-four on a nightly basis – as well as complimentary players Dennis Wideman, Deryk Engelland and Ladislav Smid – it's understandable the Flames would wear out the phone lines fielding trade calls. Conversely, defence is an aforementioned area of weakness for the Sens, while offence is an equally weak area for Calgary – both easily rectifiable through a trade. In acquiring Cowen the Flames would address their lack of physicality (they currently sit 25th in the category) and, in adding Hoffman or Mark Stone, would also inject some much needed scoring on the wing to help them push for a playoff spot in the weak Pacific Division. The Sens, meanwhile, would get their choice of either a positive possession player (Brodie) or a shot blocking specialist (Russell) in return.
The above trades are a bit more plausible than others, considering the needs of each team, but there are a few alternative (albeit less likely) avenues the Sens could also explore:
Eric Staal, Carolina Hurricanes
Carolina's status as a bubble playoff team has slowed the progress of any discussions surrounding Staal, but there remains an outside chance he gets moved. Staal would add the veteran experience Ottawa is looking for, as well as leadership, while the acquisition of Cowen would help improve Carolina's soft blue line. At 31 years old, Staal's age could be a deal breaker for the Sens.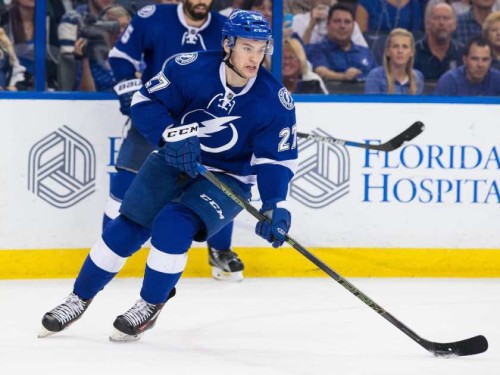 Jonathan Drouin, Tampa Bay Lightning
It's almost mandatory for Drouin to be included in this list, but there are two factors standing in the way of a deal with Ottawa. For one thing, Tampa GM Steve Yzerman is understandably hesitant to make a move within the Atlantic Division (unless the return makes it worthwhile). And in Ottawa, Bryan Murray seems unwilling to move either of the two names that have emerged in trade discussions: Codey Ceci and Thomas Chabot.
Matt Moulson, Buffalo Sabres
In the category of "Out of Left Field" comes Matt Moulson's name. Despite flying under the radar in most trade rumours, Moulson could be a dark horse pick to move. He hasn't performed well in Buffalo but, as is the case with Cowen, a change of scenery could be just what Moulson needs to find his former self. But similar to Staal, Moulson's age (at 32 years old) is a turn off.