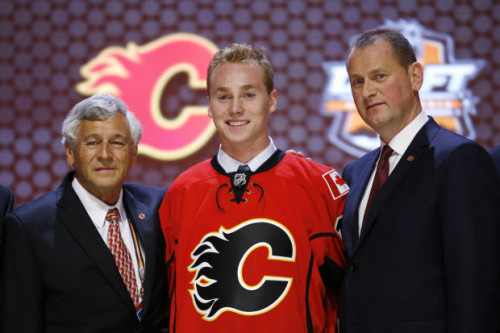 If Sam Bennett's skill alone wasn't enough to justify the hype surrounding him at the 2014 NHL Entry Draft then the interest multiple teams had in him sure was. The once-ranked number-one prospect among North American skaters, Bennett surprisingly fell into the lap of the Calgary Flames with the 4th overall selection.
So without even participating in any NHL level activities it would have made sense for fans of the Flames to think he had a good shot at cracking the Flames' final roster. But comments made by GM Brad Treliving suggest otherwise.
On September 2 Mark Spector of Rogers Sportsnet tweeted out that Flames GM Brad Treliving told him he "would be shocked" if Bennett made Calgary's roster. Maybe that's because of roster competition, or perhaps it's a comment on Bennett's readiness for the NHL. But all things being equal, which team should Sam Bennett play for in 2014-15?
The simple – and, perhaps, obvious – answer is wherever he'll have the greatest potential to grow his game. There's no question that would be at the NHL level, but there is a caveat: if he's going to sit on the bench more often than not – which is a possibility – there's no use keeping him around.
Conversely, sending him back to the OHL to play with the Kingston Frontenacs could be an issue because he may not be challenged enough. If last season was any indication he's already conquered the junior ranks: he average just over 1.5 points per game, finishing with 91 in 57 games.
No 18-year-old's game is perfect – and Bennett's is no exception – but it's hard to imagine him tallying fewer than 100 points if he was to return to Kingston. For that reason the best course for Bennett would be to play for the Flames this season.
The simple fact remains that being in the NHL provides the best opportunity for Bennett to develop and grow as a player and a professional. It would take nothing short of a miracle for him to enjoy the same success he had in Kingston, but he doesn't need to put up 90-plus points for the season to be considered a success.
If Bennett needs any evidence of that he need look no further than teammate Sean Monahan who – looked upon as a longshot by some to make the team in 2013-14 – stuck around for the full season and enjoyed modest success. He put up 37 points in 75 games, but could have done more if not for a stretch of seven games from Nov. 29 to Dec. 12 he missed due to injury.
And, quite frankly, the Flames could desperately use a player with the offensive prowess of Bennett. A few extra goals may not make a huge difference come season's end (a playoff spot seems unlikely with or without Bennett), but it's worth a shot keeping him to see what he can do.
Sure keeping him past the magic number of nine games might "burn" one of three years on his entry-level contract, but he's going to be part of Calgary's future, so why not acquaint him early on with what the NHL has to offer?