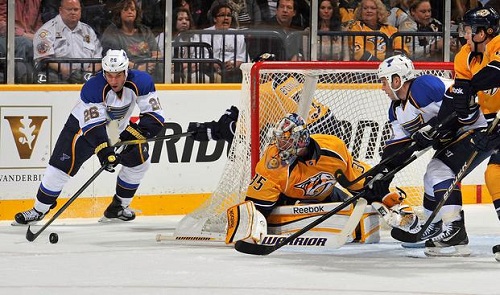 St. Louis is poised to take the top spot in the Central Division again this season, if there is a season, however they aren't going to be handed the division on a silver platter.
The biggest threat to the Blues this upcoming season, at least in their own division, is going to be the Nashville Predators.
The Preds have been playing solid hockey for the past few seasons and the rest of the league hasn't been giving them their due. Which means while they have been underrated, Nashville has gone under the radar for most teams in the league. Up until now.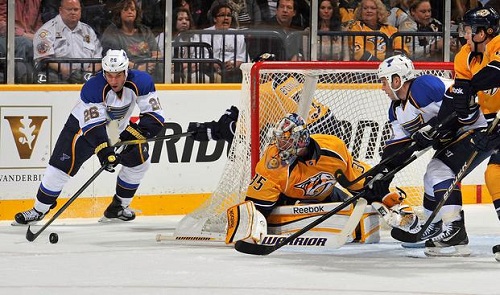 The big off-season shakeups with Shea Weber and Ryan Suter have caused many teams in the league to take a closer look at Nashville and it's a good thing they have. Nashville has had one of the league's best power-play teams, and despite losing one of the league's top defensemen in Ryan Suter, Nashville still retains Shea Weber.
Weber is deadly on the power-play, and will be looking to be even deadlier this season as he carries more pressure on his back.
Along with Weber's power-play pressure, he still wears the "C" on his sweater, and he is still a source of pride and leadership in the locker room, and the stands. Weber alone will bring a sense of solidarity and stability to the Predators, which will translate into confidence on the ice.
Behind Weber, Pekka Rinne will be sure to play to his potential, which should be all-star caliber. As long as he stays healthy and focused, he should gain the trust and confidence of his team and his coaches, which are the key ingredients he's looking for to help propel him to the top of his game.
The Columbus Blue Jackets have a few names on the roster that will hold up their end of the game, but they don't have the depth to make a playoff impact. Look for Brandon Dubinsky and R. J. Umberger to have solid performances this season, assuming they can stay healthy. The Blue Jackets also have strong leadership on the blueline in Adrian Aucion and James Wisniewski, both guys who can lead in the locker room, on the ice and are favorites in the stands.
Steve Mason has played well in net for Columbus, and he'll maintain that reputation. He's still looking for that spectacular season where all the bounces go his way and everything clicks. It won't be this season.
Detroit will be looking to rebuild their roster, and regain some composure after losing Nicklas Lidstrom; a hall-of-fame roster slot.
Chicago's roster, though full of offensive talent, needs to rebuild on the defensive end. Brent Seabrook and Duncan Keith can only hold up the blueline so long before they need strong help in net. Chicago also needs a stronger special-teams unit if they are going to expect to win those must-win games.