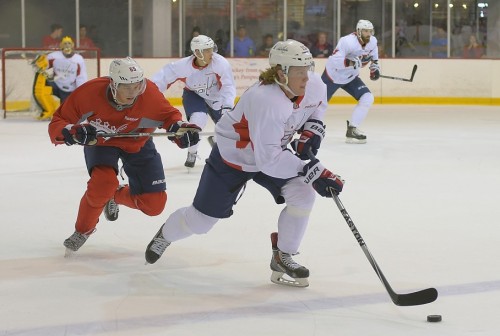 The Capitals are no strangers to the second line center problem. In June 2012, the Capitals traded for then Dallas center Mike Ribeiro for Cody Eakin and the Capitals 54th draft pick. Ribeiro played his last remaining season on his contract, worth five million a season, with Washington and walked away in free agency after the Capitals and Ribeiro couldn't agree to a contract.
Last offseason the Capitals signed Mikhail Grabovski to a one year, three million dollar deal, after he was bought out from Toronto. The Capitals however, were forced to play 24 games without the star Belarusian when he was out during injury. The Capitals then opted to not resign Grabovski but instead improve the defense with the signings of Brooks Orpik and Matt Niskanen.
Now the Caps are stuck trying to fill a hole before the season starts, with the roster they have now. The choices aren't too thrilling either.
1. Brooks Laich
He has played the position before and if he's healthy like he says he is then Laich could be the second line center when the puck drops. The problem with Laich in the the number two hole is his possession stats are a nightmare, especially when paired with RW Troy Brouwer. The combo were nicknamed the Black Hole line by Japers' Rink.
2. Marcus Johansson
This could be the year were Johansson finally pulls his weight. After a stagnant last two seasons, Johansson is in a contract year so he can either cash in or the Capitals could move on. After scoring 13 and 14 goals in his first two season, Johansson only has 14 goals in the last two season, nine from the powerplay.
3. Andre Burakovsky
A winger by trade, Burakovsky might be the Capitals best option, paired with Evgeny Kuznetsov and Tom Wilson and you have a line of the Capitals future. Burakovsky tried his hand at center in developmental camp and impressed.
While I'd prefer it be Buraksovky from the start; we are likely to see a combination of the three or even more.