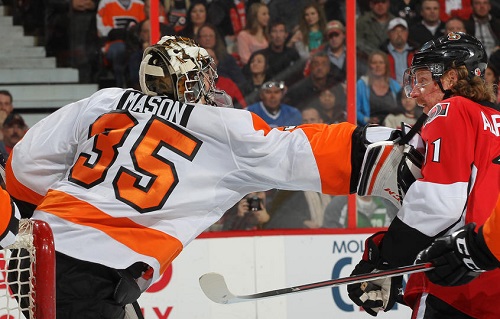 Ilya Bryzgalov was an unfortunate bust but now the Philadelphia Flyers have to decide who they will turn to in goal for the upcoming season. The team has two solid goalies in Steve Mason and Ray Emery who will both want to compete for that coveted starting job.
Many think there won't be a clear starter and head coach Peter Laviolette will just rotate them evenly. That is a definite possibility but only one of them can start on October second when the team opens up their season against the Toronto Maple Leafs.
The real question is who has the upper hand going into next season. That is a tricky question that needs some close analyzing to discover the answer to. Ray Emery was a beast last season with the Chicago Blackhawks, putting up 17 wins and only one loss. The issue with this is that Emery played behind the best team in the NHL. Chicago was a force to be reckoned with and their massive winning streak is proof. Emery was a backup and didn't even play during Chicago's run to the cup.
One quick glance at his stats from last season and one would automatically think that Emery should be a starting goaltender. The problem is that Emery hasn't played a 50 game season since the 2006-2007 campaign. Is this injury prone guy really ready to take on a massive starting role with a new team? Ray Emery seems to be the ideal backup goalie that can be counted on with confidence if the starting goalie gets injured.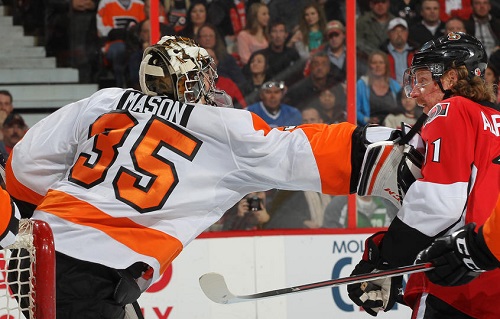 Does this mean Steve Mason is automatically the starter for the Flyers next season? Definitely not. It is just reasonable to believe Mason will be in the Flyers goal when the season begins. He came to Philly in need of a fresh start and it appears he has found one. Seven games is a really small sample but his .944 save percentage and 1.90 goals-against average is a positive sign.
Mason is only 25 and has his whole career in front of him to prove he can be a starting goaltender at the NHL level. Here is a past Calder winner who struggled playing behind a bottom tier team. Sergei Bobrovsky proved with the Columbus Blue Jackets though that one can still have success even if they don't have a great team in front of him .
Mason is young and is looking to rebound from a disappointing time in Columbus. Laviolette needs to feed off that and give Mason the confidence he needs. There is a chance that Lavy simply plays the hot hand next season but don't be surprised if Mason emerges as the starting goaltender while Emery still sees his fair share of action as the backup.