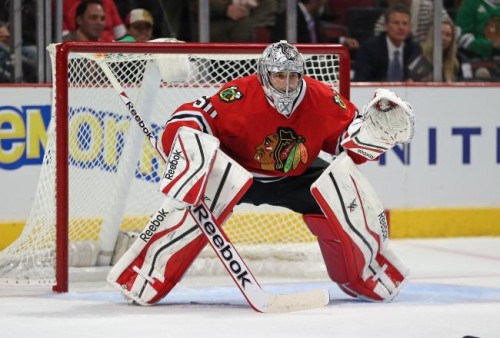 There is an air of panic being whispered through Chicago right now. Ever since Corey Crawford suffered a groin injury during Chicago's win against the Florida Panthers, Chicago has had some roller-coaster performances. Some exciting, high-scoring wins, and a devastating, insurmountable loss to the Toronto Maple Leafs. However, there are some bright spots to both of Chicago's goalies being injured. A hurt athlete is never a positive thing, nor should it be celebrated. But there are silver linings that need to be highlighted.
Experience:
With both Crawford and Nikolai Khabibulin hurt, it gives younger, rookie goaltenders in Chicago's system the chance to gain NHL experience. Antti Raanta has been pulled up to fill Khabibulin's skates, and Kent Simpson has gotten his skates wet in the NHL during Chicago's loss to Toronto. Granted, the first NHL shot on Simpson found the back of the net, the positive to be taken away is that Simpson has faced NHL caliber shots.
Confidence :
Hurt goaltenders can create extreme attitude swings in hockey teams. Clubs will either crumble under the stress and pressure, or find ways to rise up among the hardships. Chicago is a team that has built a reputation of refusing to crumble. With Crawford and Khabibulin hurt, another opportunity to do just that has been presented. The rest of the roster, the players in front of the net, will have to find confidence in themselves to hold up their play. It's easy to be relaxed knowing you have an NHL veteran goaltender, like Khabibulin, behind you.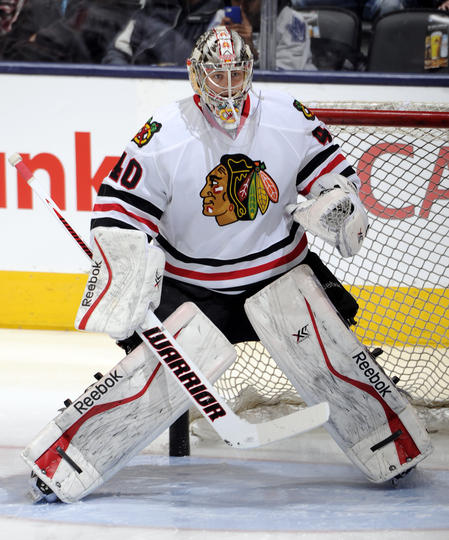 It's just as easy to coast when there is a Stanley Cup winning netminder between the pipes, as in the case for Crawford. But now Chicago has two rookies in front of the cage, one of which has only one period of NHL experience under his pads. Now there is no time to relax, and no coasting. Everyone up front now has to carry a little more responsibility and pressure on their shoulder pads and play like every loose puck matters just a little bit more. It's not a matter of lack of confidence in the teammates in net, it's a matter of supporting the new guys. When it works, Chicago's offense can put the game in their own hands and produce some high-scoring games. The Blackhawks have played four games so far including the game in which Crawford got hurt. During those games, Chicago has racked up 28 goals. The offense will need more of that if inexperienced netminders will let in the soft shots and loose rebounds.
Coming Back:
There will also be a resurgence of confidence and positivity when Khabibulin and especially Crawford return from injury. That will be a power swell to look forward to. And yes, both netminders can and will return from injury. Khabibulin is no stranger to being hurt and understands the recovery and return process. Crawford, on the other hand, hasn't had as much experience being hurt, but is excited to play hockey. Khabibulin was hurt on October 24th, and since then Crawford has had to carry the goaltending load on his shoulders. In late November, Raanta was given the nod as an NHL starter. What that means is that Crawford hasn't had a large rest in a long while. Being on the injured reserve can serve as that rest, allowing for a second wind when the time comes. Being away from the game, for Crawford, as a starter, is like keeping the cookie jar in sight but just out of toddler reach. When he does get the okay to come back, Crawford will be energized to get back in net and his performance will show it.