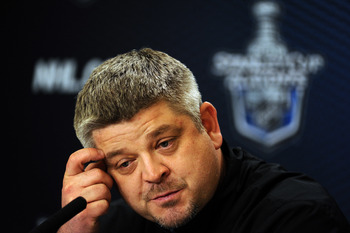 After their 7-0-0 start, the Sharks were feeling great about themselves. As kings of the ocean and NHL, they were the predator to be messed with. So who better to do the job of messing with them? The Nashville Predators of course. In a predator turn prey situation, the Sharks suffered their first loss of the season and it all went downhill from there. So why are the Sharks sinking? Here is a breakdown of each position, and what is going on.
GOALIES
Let's start off with an easy position to talk about. Goalkeeping has been no issue for the Sharks, who have a strong goalie in Antti Niemi. Involved in Vezina talks already, the Finnish goalie has posted 1.96 GAA, and has been the MVP for the Sharks so far this season. Hard to imagine where in the standings the Sharks would be without this weapon. Thomas Greiss has had a shaky season so far, with a record of 1-3-0. He is currently injured, and Alex Stalock is playing the backup role.
DEFENSE
The San Jose blue line came into the season with high expectations. After a remarkable season by Marc-Edouard Vlasic last year, he has struggled this year, posting only 5 points in 24 games. Douglas Murray, Jason Demers, and Justin Braun are continuously turning the puck over in the wrong places, and Brent Burns is yet to play at 100%, starting the season injured, and then playing 6 games before injuring himself again. Brad Stuart has been the key defensive man on defense so far, posting a +6 rating. Dan Boyle has played the offensive role on the blue line, posting 10 points. Matt Irwin is also playing well when he is called up to play in the big leagues. All he has to do is work on a few rookie mistakes.
FORWARDS
Where do I even start in this category. Let's get some quick injury business out of the way. Martin Havlat is injured right now, but has played in 20 games, registering 6 points. The Sharks expect more from him, and Havlat is proving to be a bust as a Shark. Now let's move on to people who should be producing but are not. Adam Burish was a major signing for the Sharks, giving him big money. Two points in 24 games is not impressive, and i'm not sure why he was signed for so much in the first place. Ryane Clowe is another person who isn't playing at where he should be. According to the team he is not 100%, but I would expect him to have at least one goal by now. One thing to focus on is just scoring more goals like they were in the beginning of the season. Niemi will hold down the fort if the team can get three goals, but that just has not happened. Go back to the basics and do not be fancy.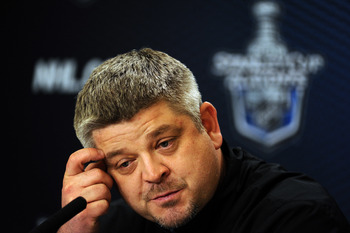 COACHING AND SPECIAL TEAMS
A short paragraph on coaches and special teams. Jim Johnson and Larry Robinson are doing a great job in my opinion as the news coaches. I always see Robinson walking around the bench talking to the players even if they just made a mini error, and Johnson is just a great fit in the organization. Jay Woodcroft is still doing an excellent job as well. One thing that is killing the Sharks is the power play. The penalty kill has been better than ever, and hopefully it stays that way. On the other hand, the power play has been absolutely terrible. The Sharks are losing one goal games because of this, and it has to be worked on as soon as possible.
In the end, i'm almost 100% sure the Sharks are going to snap out of this decline and make the playoffs. A few players will need to step up, but I know it is still very possible for the Sharks to be considered one of the best teams in the league.