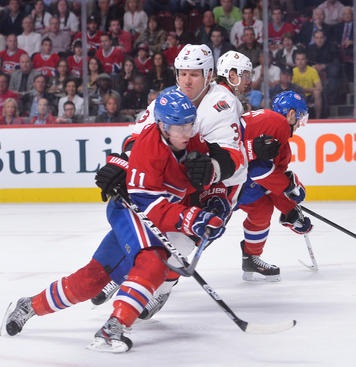 A big reason the Montreal Canadiens were able to turn their team completely around this season was the impact their young players made. And no rookie had a bigger impact than Brendan Gallagher, who at age 20 (he turned 21 May 6) was able to jump into the league and dominate. That strong season will lead to Gallagher being named the Calder Trophy winner as rookie of the year.
First lets look at his offence, which was a big (but not the only) part of Gallagher's game. Gallagher finished with 28 points in 44 games, good for fourth among rookies. The leaders, Nail Yakupov and Jonathan Huberdeau, played four more games but only had three more points. Gallagher also had 15 goals, which was second among rookies (and most among rookies nominated for the Calder). This all coming while missing four games with a concussion.
Among Montreal skaters, Gallagher was sixth in points and tied for first in goals. He saw close over 2 minutes of powerplay time per game and was +10 overall. Gallagher's play helped the team's offence rise by more than half a goal a game and their powerplay success rate rise close to six per cent.
Defensively, Gallagher was also a key player for the Habs. Even though he only stands at 5′ 9, Gallagher contributed 44 hits and 33 blocked shots. He frequently went to the hard-nosed areas close to the net and challenged big defencemen like Zdeno Chara and Dion Phaneuf multiple times a game.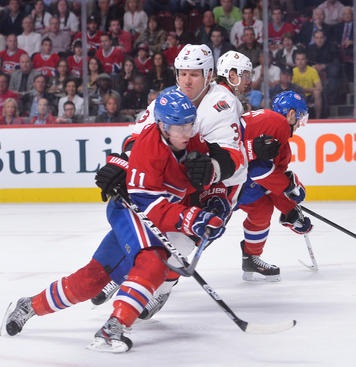 But the biggest reason Gallagher deserves the Calder Trophy is the way his team improved with him in the lineup. Montreal finished in last place the year before and frequently looked lost during that season. By bringing in Gallagher (and fellow rookie Alex Galchenyuk), the Habs got youthful energy and ultimately, wins.
General Manager Marc Bergevin praised Gallagher for his character in his end of the season press conference.
"You look at a guy like Brendan Gallagher, one of the smallest in the league, but he has character off the chart," Bergevin said. "I don't care how big you are, if you have no character you will not succeed."
That character was very apparent in Gallagher's own end of the season comments.
"I learned a lot about myself, the league and how much fun it is to be here," he said. "I knew it would be tougher, but it was a really good challenge for me."
And the Calder nomination? Never crossed his mind.
"[The Calder] hasn't been something I'd thought about to much all year," he said. "But when you are recognized, it's pretty cool and a big honour."
After bringing a historic franchise back to relevance, scoring a ton of goals and bringing a ton of character to his game, Gallagher has earned the Calder Trophy.
And that is why he will be the one winning it Saturday night.