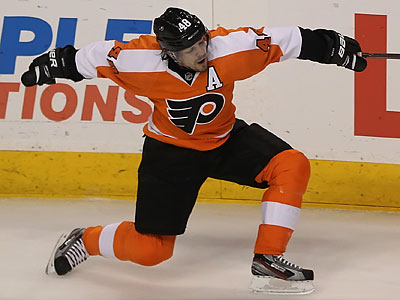 Daniel Briere is likely returning to the Philadelphia Flyers line-up on Saturday when the team takes on the Buffalo Sabres. The 35 year old veteran forward has missed the past ten games with a concussion.
He returns to a Flyers team that likely will be missing the playoffs for the first time since 2007 and the second time in 18 years. The team is seven points out of a playoff spot and is coming off a brutal 3-1 loss to the struggling Ottawa Senators. In addition, the Flyers have lost their past three games.
While the Flyers mathematically haven't been eliminated from the playoff race, sportsclubstats.com lists their playoff chances at 0.9%.
Daniel Briere should give them a boost but the Flyers faithful shouldn't be too excited. Before getting injured on March 23rd, Briere was goal-less in his previous 13 games. In the 26 games he has played this season, Briere only has five goals and 13 points.
We are all well aware that each NHL team can buy out two of their player's contracts in the off-season. Briere signed an eight-year, $52 million deal in 2007. He already has collected $47 million in salary but still has a cap hit of $6.5 million in each of his final two years of his current contract.
The Flyers need to get under that $64.3 million salary ceiling for next season and a Briere buyout seems like a necessary step to get there. According to CapGeek, the team already has $65 million in the books. There will definitely need to be steps taken to get under that ceiling.
Briere's production has been declining since a superior year in 2010-2011. He put up 68 points that year but followed up the next season with only 49. He has only notched 13 points in the limited amount of games he has played this season.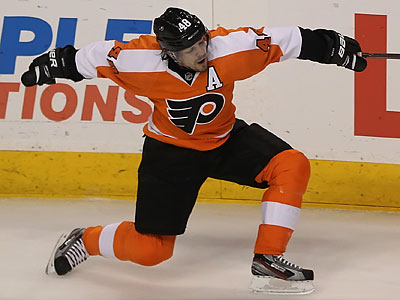 The veteran forward became a fan favourite in Philly due to his brilliant performance in the post-season. He has 109 points in 108 playoff games and had 13 in 11 for the Flyers last year. When the Flyers went to the Stanley Cup Final in 2010, Briere had a whopping 30 points in 23 playoff games.
He raises his game in the playoffs but that is of no use if the team doesn't even get there in the first place. The Flyers are a team in desperate need of a top defenseman and letting Briere go might give them some cap space to pursue that need.
Briere has acknowledged the possibility of a buyout.
"Definitely," Briere said. "It's reality. There's no doubt about it".
Even though it is likely Briere will be bought out, the forward made it explicitly clear he would like to remain in Philly.
"I believe in this team," he said. "I want to be here. I can't control if they decide to buy me out, but this is where I want to be at this point.
With eight games remaining in the Flyers season, there isn't much Briere can likely due to show the team he should remain a Flyer. There is a tremendous amount of young talent up front and the team truly doesn't have a spot for Briere anymore.He turns 36 in October so age is also the problem.
Defense is the reason this Flyers team will miss the playoffs this year and something needs to be done. There is no way this team will ever win a cup with their current blue line of Ken Huskins, Bruno Gervais, Oliver Lauridsen, Erik Gustafsson, Luke Schenn, and Kimmo Timonen. Something has got to give. They need money to go after a big name d man and they can get that through a Briere buy out.
Daniel Briere will always be respected in Philadelphia as he has done great things for this team. He brings his heart and soul for the playoffs and almost led the team to Lord Stanley. All good things must come to an end and unfortunately for Briere, his time in Philly is limited.