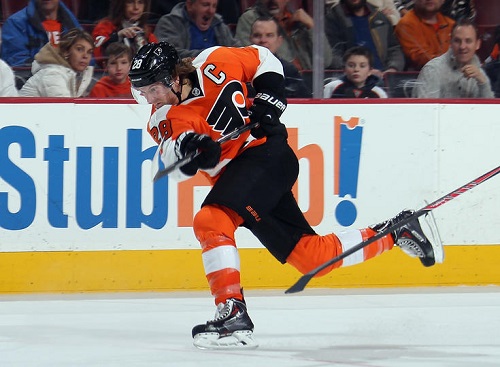 The competition is incredibly fierce. There will be tears. There will be casualties. Most of all, there will be blood.
Only a limited amount of players will make team Canada at the 2014 Sochi Olympics, and here is why Claude Giroux deserves a spot on the squad.
Claude Giroux, along with the rest of the Flyers, had a horrific start to the season. Philly was 4-10-1 in their first 15 games. Flyers captain Claude Giroux had a disappointing seven points in that span.
It's what Giroux had done since then that makes him an ideal candidate to go to Sochi. In his last 19 games, Giroux has 19 points and a plus -7 rating.
Over his first 15 games, Giroux was a disappointing minus-11. He has changed his game and it's showing on the scoresheet.
You don't just look at a player's bad start and automatically dismiss them from Olympic consideration.
Were very many people talking about Eric Staal not going to the 2010 Olympics when he opened the 2009-2010 season with only seven points over his first 16 games?
The answer is no. Why? Eric Staal is an elite NHL player. Everybody knows what he is capable of.
The same goes for Claude Giroux. He is as elite as they come in this day and age. In 367 career NHL games, Giroux has collected 317 points.
What's more impressive is his 55 points in 50 career NHL playoff games. He thrives under the pressure. He can step it up when it matters most.
Giroux had a whopping six goals and eight assists in that 2012 playoff series against the Pittsburgh Penguins.
Isn't this the kind of player you would die to have on your team?
It isn't hard to see why critics don't think Giroux deserves to go to Sochi. It doesn't take a rocket scientist to figure out.
Giroux has looked rather average this season. Sure his numbers are starting to increase, but he still isn't dominating games and leading the team as he has done in the past.
Let's take a look at his linemates. Jakub Voracek has been red-hot lately, recording seven points over his past five games.
In his first 30 games, Voracek only had 12 points. Don't you think that might take a hit on Giroux?
The two formed a dynamic duo last season. Voracek had a whopping 46 points in 48 games.
All of the sudden, Voracek returned back to his average self. Now that Voracek is scoring again, Giroux is back to looking like a great playmaker.
Now that's just one of Giroux's linemates. We haven't even started talking about Scott Hartnell.
Over his past two seasons, Hartnell has only tallied 14 goals and 23 points in 63 games.
Claude Giroux can no longer make beautiful passes to Hartnell that will automatically result in a goal.
Hartnell is far-removed from his 37-goal season in 2011-2012. Giroux had 65 assists that season. That is a remarkable total.
We aren't seeing the same Scott Hartnell anymore.
Giroux has lost some of the talent that was with him during that elite year when he broke out with over 90 points.
At the Olympics, that doesn't happen. There is no lack of talent. Everybody there is a superstar.
The year Giroux brokeout with 93 points, the Flyers were averaging 3.17 goals per game.
Everybody was scoring and Giroux's totals were so high because there were multiple players that could easily find twine.
There were no scoring problems in Philly in 2011-2012.
At the 2014 Sochi Olympics, I highly doubt Canada will have scoring problems.
There is no player like Scott Hartnell who is "struggling to find his game".
Hartnell has been so disappointing that Michael Raffl has replaced him on the top line. Raffl is a promising NHL forward, but really, had you heard much about Michael Raffl before this season?
The point here is there is evidence in the past that Claude Giroux can be one of the best players in the NHL.
If he makes team Canada (which he should), he will be playing alongside elite NHL snipers. Some of the best players in the entire world will be on his wing.
I would even go as far as saying that the Olympics will bring out the elite Giroux we saw in 2011-2012.
There won't be any concern about a player finishing off a 2-on-1. There won't be any "slumping' players on his line.
If you don't get the feeling Claude Giroux would excel in an Olympic setting, you definitely haven't seen enough of Giroux.
This article isn't stating who should make the team or who shouldn't, it's simply to state that Giroux belongs on the squad.
A slow start doesn't mean anything for a player if they are just one of many on the team who are doing the same. How do you expect to get going when nobody else on your team has any confidence?
The whole world will be watching in Sochi, and Giroux is a player that will make these Olympics something him and Canada will never forget.
Be sure to follow me on Twitter @BradyTrett for all the latest on the Flyers