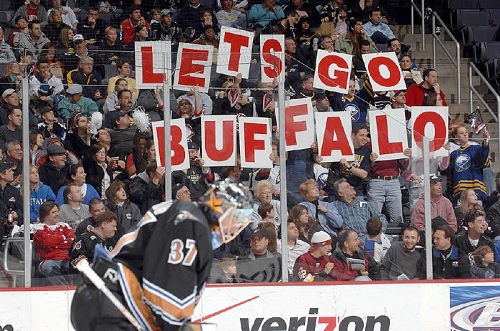 At this point, the Sabres should have played about 10 games in their season. To not have the Sabres or any NHL hockey team playing is a frustrating thing. The following things will happen if I have to sit without another year of the NHL:
1 Go through another terrible year of the Bills
The Buffalo Bills, for those that do not know, are one of the worst teams in football. Their owner is only worried about making a profit and the Bills have not made the playoffs since the last decade. They have not hired any top of the line coaches, I mean hey, who wants to coach in Buffalo? While they spent $100 million on Mario Williams, he has been of little impact this year. In addition, there were those 4 Super Bowl losses…in a row!
2. Will not be able to watch Hockey Night in Canada and Don Cherry
Now, every Saturday, I make sure that when the 1st period ends on the CBC, I make sure I watch Coaches' Corner with Don Cherry and Ron McLean. I find that Don Cherry is very comical and the suits he wears are quite interesting. No Saturday night would be complete without watching these two guys during the 1st intermission. I now have to watch YouTube videos of Don Cherry to satisfy my Saturday cravings.
3.
One less thing to talk about with people
I enjoy talking about the NHL and the Sabres with just about anyone. Many of my friends and I will go out to watch games. As a substitute teacher, it is great to see when many students walk in school with their Miller or Vanek, or any other Sabres jersey. (It's kind of annoying when you see a Crosby one when they play the Penguins) It is fun to talk about what players are doing well, who should see more playing time, who should sit the bench, why the stupid penalty?
4. One more year of the Sabres not winning it all
For those of you at home keeping track, the Sabres have never won the Stanley Cup, the most coveted trophy in sports. The Sabres first season in the NHL was 1970. In that time, they've made it twice to the finals, once in the 70s and once in 1999. The Flyers and Stars beat those Sabres teams respectively. (And yes I think Brett Hull is a cheater) To go off of my first point, the city of Buffalo has not won a major sports professional championship in over 45 years! (Buffalo Bills won some AFL titles in the 60s)
To help me fulfill my hockey thirst, I have been going to collegiate hockey games of Canisius College, my alma mater. They just scored an upset of Rochester Institute of Technology (RIT) this past weekend by a score of 6-3. The Golden Griffins have a stout defense and maybe can make a run at the NCAA tournament this year. I guess it is something to cheer for until the lockout ends.