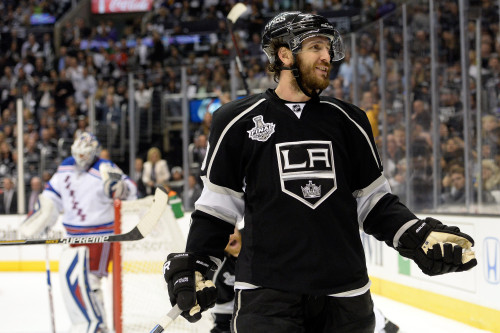 The New York Rangers have been on the doorstep of winning the Stanley Cup the past two seasons, but fell short both times. Last season, it was a poor performance in game seven of the Eastern Conference Finals against Tampa Bay that prevented them for playing for the Cup for a second season in a row. The previous year, the Los Angeles Kings won three games in overtime (or double overtime) to beat the Blueshirts in five games. Jarret Stoll was a member of that Kings squad, and he'll be taking his defensive forward talents to Broadway this season in what was a shrewd move by new Rangers GM Jeff Gorton.
The addition of Stoll came on the cheap, signing a one year/$800,000 deal. The Rangers were able to get the face-off and penalty killing specialist at such a low cost because of recent off-ice legal issues that were resolved. Some might think that New York would be one of the last places that you'd want to take a chance on someone who was arrested for cocaine possession. But Stoll is 33 years old, and as good as he is at winning face-offs (55.4% for his career and never below 51% in a season), he knows he won't get another chance if he messes up again. This is a low-risk/high reward signing by Gorton. Even if it's a worst case scenario situation, his deal is cap-friendly. Best case scenario is Stoll becomes a fixture in the Rangers bottom-six forwards and on their penalty kill unit.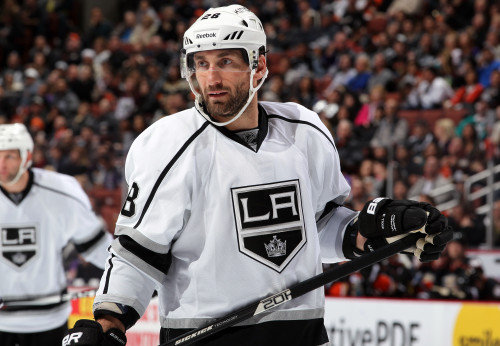 The 6'1", 215lb center brings two Stanley Cup rings (and had an additional appearance in the Finals with Edmonton in 2005-06) along with him to Manhattan, but can be a big contributor in area the Rangers really need it. The Rangers ranked 28th in face-off percentage at even strength (46.5%), 25th on the power play (50%), and 11th on the penalty kill (11th). Stoll's wizardry in the dot should provide a boost, and he'll make a 6th ranked penalty-kill (likely filling the spot left behind by the trade of Carl Hagelin) unit even deeper. I can see Stoll sliding in to the third line center role, which would allow Kevin Hayes to move up to the Rangers top six forwards on the wing. There are a few candidates to flank Stoll on the wings, and it could be anyone from JT Miller, Jesper Fast, Viktor Stalberg, or Emerson Etem. Plus, it means Erin Andrews will be in attendance at MSG for some games, and that's never a bad thing.
The addition of the Stoll isn't the "final piece to the puzzle", but it fills a void that was left when Brian Boyle signed with the Lightning last off-season. Stoll's mistake in Las Vegas back in April was a bad one, but it's his only blemish on his twelve season NHL career (with seven of those season in LA). Stoll is saying all the right things about the past being the past and being focused only on the future. If he proves the doubters wrong, both he and the Rangers could reap the rewards in the Spring.