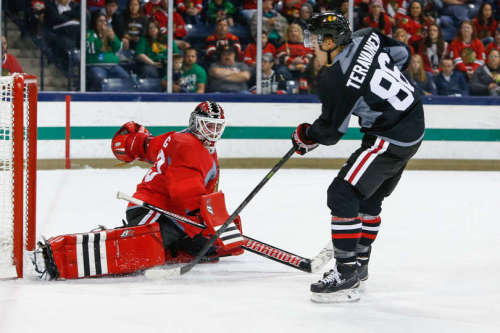 The hype is hard to refute. He lit up the minors and has been nipping at the heels of his NHL roster spot for some time now. But the expectations of Teuvo Teravainen can't get too high, or his career in Chicago will start out on a rough path.
He pushed his way through Chicago's American Hockey League affiliate, the Rockford IceHogs, and did so well enough to earn him some looks and confident assurances from the NHL management. He was no secret to fans either, as word quickly spread of the new kid's potential. However, that much anticipation could tip the scales into a negative zone.
Make no mistake, Teravainen will be good. He's got the raw talent, quickness, and ability to make a long and successful career in the NHL. His placement on one of the top performing teams who hold a high expectation of success themselves make his arrival even the sweeter. Take into consideration Chicago's General Manager, Stan Bowman's history of success, and Teravainen's anticipation can't be denied.
As long as it's within reason. He is still a rookie. There will be rookie hiccups. Playing to a sold-out AHL crowd is exciting, but it's not the same as playing in front of a sold-out United Center crowd, who all have expectations of witnessing the next NHL superstar.
Teravainen will take his place as a regular in the NHL this season, and he will be able to form his place. He will need some time, some space, and some understanding from the Blackhawk faithful that he does belong and will come into his own eventually.
Remember, Patrick Kane was expected to be the next great thing in Chicago. He is now, but it took a cab incident and some unflattering photos to set his mind from young rookie to NHL leader. Hopefully, Teuvo doesn't need to make news headlines to find his place, but he will need some room for growing pains. Every rookie needs that.
The Blackawks' Training Camp had Kane and Teravainen netting goals in the first game, giving credence to the hype-supporters. It would be good to keep in mind that he will eventually have to run into the full-force Los Angeles Kings, the physical Boston Bruins, and the chippy Vancouver Canucks. All teams that have a personal grudge against the