Prepare for one of the most, if not the most, exciting NHL offseasons of all time.
With the rather sudden drop of the salary cap from $70.2 million to $64.3 million (an 8.4% decrease) as a result of the new CBA (in addition to other rules you can find here), successful teams that have managed the cap well are scrambling to find ways to keep their teams intact. As the cap usually increases every year, nobody could have planned for this even just two years ago when the cap was, ironically, $64.3 million. Well, maybe a Gary Bettman-run team, but most teams formed their rosters and contacts expectant on the current system to continue. For example, the first salary cap (2005-2006) was a mere $39 million, increasing every year until this past season's $70.2 million – an increase of $31.2 million over seven years, or an average of $4.5 million per year. Instead of increasing by somewhere around $4.5 million, the cap is dropping $5.9 million. Uh oh.
With the cap decreasing, current contracts are essentially worth more; 8.4% more to be exact. Think of it like deflation: For example, Chicago's Brent Seabrook was given a five-year deal at $5.8 million per year two years ago – a solid deal at the time with the cap expected to continue rising (inflation) – but that contract is now exponentially worth $6.3 million in comparison, good for half a million dollars more. It's not that significant, but whereas the deal took up a little more than 8% of the team's cap space last year, it now comprises 9%, and it's every contract having that sort of effect. At the time, word around the league was (probably) "good, solid deal for the Hawks." Now it's more "well, it's not bad, but maybe it's a little too much for a player of his caliber. And that's how every contract is now; imagine if every GM overpaid every one of their players by just a bit (or, if it's easier for you, imagine that every GM is Glen Sather) – that's what's going on. Great deals become good deals, good deals became "meh," decent deals become bad contracts, and those bad contracts become free agents after a buyout.
And that brings us to this offseason. As so many teams have played a balancing act with the cap since its inception, just 14 teams currently have more than $10 million in cap space. And that's not enough if these teams want to get better and replace the holes that allowed them to actually have any cap room at this point. Also, some teams might actually need some help hitting the salary floor ($44 million), so expect those team, who hold all the cards, to be recipients and trade-drivers of big contracts that have a large cap hit but aren't actually owed much money (front-loaded contracts that are a few years in).
We are going to see lots of trades, lots of players walk, and even many amnesty buyouts of some of the big names, all in the goal of getting under the cap for next year.
Be prepared to throw out much of what you know about a team's composition.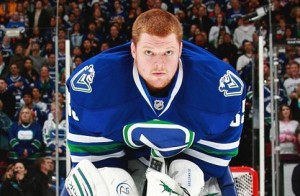 According to capgeek.com, the Vancouver Canucks are just $47,000 under the cap…with just 17 players signed, from last year's team anyway. Now they have a few options: trade away some of their players making big money, including backup/starter/backup Cory Schneider (who, along with Roberto Luongo, has been rumored to be on the move for several years now), or…bring up a bunch of AHLers on their entry-level deals or scrubs willing to take the league minimum. Spoiler: they are going to make some trades and possibly use an amnesty buyout or two. And teams like the Sharks and Wild aren't in a much better situation.
Teams are already starting to utilize their two compliance buyouts (a buyout that negates any cap hit penalty a normal buyout would have) on both big names with giant contracts and solid players with deals that are probably a little too much for their value (you can find a tracker here). In an unexpected move, Lightning captain and franchise leader in several categories Vinny Lecavalier has already been bought out, which is surprising considering their situation doesn't appear that bad. Although if you look at the numbers, it makes sense because he was set to have a cap hit of a whopping $7.7 million over the next 11 seasons, and under the new rules, they would have been penalized if (when) he retired before the end of the deal (it's confusing, so I won't attempt to explain). The Flyers wasted no time in using both their buyouts, negating Danny Briere's contract (owed $6.5 million over the next two years) and the humongous-big (7 years at $5.7 million/per remaining) contract of Ilya Bryzgalov (yet somehow, the Flyers are still just $4.2 million under the cap). The Canadiens have used both (Scott Gomez last offseason, Tomas Kaberle this year). The Blackhawks, who had to tear apart their roster due to cap issues when they won the Cup in 2010, find themselves in a similar position, and have already used both (Rostislav Olesz and Steve Montador), but I'm sure they'll manage to win another Cup in three years. Teams have until free agency officially begins, July 4 (less than a week away), to decide if they want to utilize these buyouts (I believe teams will also be able to do the same next offseason). Otherwise, they're stuck with them and they'll have to deal with the cap hits for the remainder of the contract if they can't make a trade, which includes a player on the long-term IR. The fun part of all this? These players will need homes, so expect free agency to be wild and to see them in new uniforms shortly.
And players like Pittsburgh's Kris Letang are going to have to start understanding and adapting to the situation. They are going to have to accept less. Letang was offered more than $7 million/year over the course of eight years, which he reportedly turned down. Besides from the fact that he gets to play with two of the best players in the world on the Pens, he's simply not worth as much as he thinks simply due to the fact that every penny is suddenly worth more. Depending on the actual amount, that contract would put him, a non-Norris winner (a finalist this year), at least tied for #4 in terms of a cap hit amongst all defenseman – more than Zdeno Chara and Erik Karlsson – both recent Norris Trophy winners (although in his defense, some of those deals are designed to circumvent the cap, meaning those cap hits are, pragmatically, higher). And you can bet that those salaries aren't going to increase any time soon with the situation we have.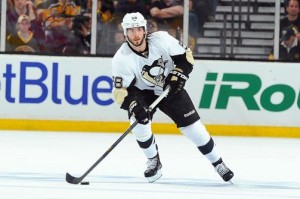 Expect trades. In addition to Schneider, the Bruins young star, 21-year-old Tyler Seguin ($5.75 million/year for the next six), is rumored to be on the move to make room for Tuukka Rask's impending giant deal (reportedly $7 million/year) and a probable Patrice "I have no ribs" Bergeron extension. A young player of his talent is going to warrant some draft picks, possibly a pick or two in this year's draft (tomorrow). Letang might be on the move if a deal can't be reached. The Flyers might have to make some moves. The Canucks will have to make some other moves even if they trade Schneider. Speaking of goalies, Buffalo star net minder Ryan Miller has been rumored to be on the block. Even the KHL is getting involved – knowing they can take advantage of the situation, they've offered Vezina winner and RFA Sergei Bobrovsky a $10 million/year deal – much more than anything Columbus can muster.
Draft day tomorrow is going to be fantastic. Not necessarily because of the actual players being drafted, but because of all the crazy trades we are going to see; not even Colorado's #1 overall pick is safe. I personally will follow the draft for that very reason, and I expect many to do the same. NHL.com and TSN's page views are going to be through the roof with people hitting that refresh button to see what deals are made, including over the next week – similarly to the trade deadline, except over a longer time span.
Say what you want about how the lockout and the new CBA screwed teams, how it wasn't right, and how we're all still incredibly pissed with the loss of games (what happened to that boycott, anyway), but it's going to make for one hell of an interesting offseason and roster transformations. And that excitement is exactly what the league needs to make everyone forget about the wrongs they've done to the fans and everyone else affected by the all these disgusting lockouts.