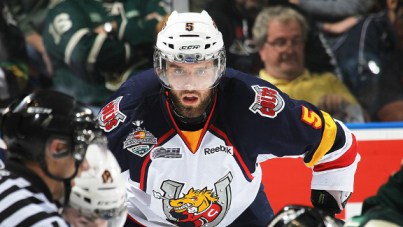 The Edmonton Oilers got the third overall pick in the 2014 NHL Entry Draft. They've made some good picks in the past, with a lot of the highly hyped forwards being first round draft picks on their part. Any way you look at it, though, this third pick puts them in a position where they need to make really important decisions about what the team needs going forward.
I'm going to play devil's advocate to the Oilers' common strategy of picking a forward, and weigh the potential of one of the most promising defensive prospects – Aaron Ekblad.
Ekblad, who plays with the Barrie Colts, was named the OHL defenceman of the year this past season. He led the team with 23 goals, was fifth in scoring amongst defencemen, and despite his young 18 years has racked up three seasons in the OHL (he entered under exceptional status at a startlingly young 15). He is the youngest defenseman to play in the OHL – ever. Oh, and he played with Canada at the 2014 IIHF World Junior Championship.
He's practically packaged in neon lights with a blinking sign saying 'pick me!'
Now, some may be wary because of his age, and argue that he needs to stay in the minor leagues for a little bit longer before making the transition to the NHL. This argument might work, if he hadn't already amassed three seasons of playing time. It's tough to tell when a player is truly ready to move from the minors to the main ice, but on paper, it seems like he would be.
If his age unnerves you, comfort yourself with his size. He stands at nearly 6'4 and clocks in at over 210 pounds. Physically, he is a man and deserves to be playing with the men rather than the boys. His stature dictates that he would likely be able to hold his own and maybe even bring something truly amazing to the Oilers' defensive line.
The Oilers have noticed their defensive disasters and made efforts to correct them recently through acquiring several young defenders on the left – namely, Darnell Nurse and Oscar Klefbom. They've been nurturing young defenders in the AHL as well. On their regular NHL roster, Edmonton has veteran Jeff Petry and the younger Justin Schultz working from the right. It's never a bad thing to have talent – the more someone wants a player you have, the better leverage you can get in a potential trade. If some of the young defenders end up as trade currency, that's fine as well.
However, I think that the Oilers could not only use Ekblad, but could use him right away – this is purely theoretical, but he seems to have the skills to move into the NHL at his young age without much negative consequences.
Ekblad lauded his own playing (although, who wouldn't toot their own horn a little when all draft eyes are on them), commenting that "my style is [being] a reliable defenceman in my own end as well as a guy who likes to jump up and support the rush and provide offensive abilities when the team needs it. You're seeing a two-way defenceman, you're seeing a guy who's willing to make confident plays and great first passes out of the zone."
If you're thinking "well if he's so great, won't someone else snap him up?" you might be right. There's a very real chance that he might not be available when the pick comes around to the Oilers, and TSN's Director of Scouting has expressed that Florida would be crazy not to choose Ekblad first.
He has a fair bit of experience in the juniors, he's strong, and he's exhibited a lot of solid qualities, including a desire to constantly improve and better himself – in an interview, he remarked that "in the OHL…you're kind of the man with boys sometimes…when you get to the NHL, you're playing with full-on, full-grown men who are pretty strong. I think I have to improve some of my strength in a lot of areas…. I've got to fill out up top and just make sure that I'm ready…"
Craig Button has called Ekblad a "pillar defenceman," and that's exactly the kind of player Edmonton needs in their defense -or even on their team more generally. If Ekblad isn't snagged as first or second pick, Edmonton needs to choose him.