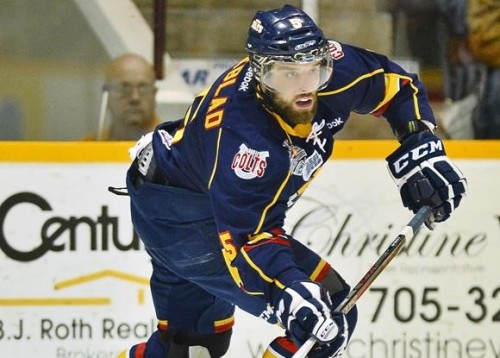 There's big, and there's bad.
First, let's talk big-in a sport as physically imposing as hockey, it comes as little surprise the amount of discussion that centers around physical size. Draft stock rises and falls based on this untradable commodity; genetic makeup serves as a tiebreaker between two equally skilled players, with general managers league-wide seeking big frames to control possession in the offensive third and bring the hammer down in their own zone. Sometimes, it overrides logic-yeah, John Scott couldn't score on a yawning barn door, but by golly, he's 6'8″!
Then, there's bad. Bad teams, bad players, it's a yin-yang kind of thing (you know, this doohickey). Two polar opposites have to exist, and though innately different, each half has a fragment of the other in its fiber. No squad can roll four lines fielding players considered to be top-three caliber-even if Stan Bowman worked his voodoo magic and assembled the professional ice hockey version of the Monstars, personal pride and the salary cap (DAMN YOU BETTMAN) prevent that from ever rearing its head. It'd be the Beverly Hills of roster builds.
Moving over to the other side of the tracks, you've got Compton-and if you squint just hard enough, tilt your head just far enough and hold your breath for just long enough, the pretty stars and flying carpets scramble and carve the letters, swooping and diving until it looks like Pablo Picasso splashed paint on a canvas and said it spelled "Sunrise". In a way, they share certain characteristics; in looking at them through two distinct filters, both started as nice enough places, suburbs to a big city. Both had promise. And then, things went South for the winter; Compton gained national recognition as a hellbox of crime and the cradle of gangsta rap, and we kind of just suck at hockey. Note the fluidity of the word; there's a distinction between bad-as in, you know, terrible-and BAAAAAAAD-as in if I look at somebody wrong I'll end up on the wrong side of a baseball bat to the kneecaps (I swear, I still haven't forgotten about Dre!)
But what do we make of a fusion of the two? What happens when black and white merge to form gray? You could always be left with the former *coughJohnScottcough* (please don't tell him I said that I'm 6'2″ and lanky as hell). But there are times, few and far between, when the latter-a result of a crazed science experiment gone horribly right-manifests itself in a high-flying, sharp-shooting, heavy-hitting manchild possessive of an imposing presence that demands respect, then douses it in gasoline and sets it ablaze.
That manchild is Aaron Ekblad. And he may soon be calling Sunrise, Florida his home.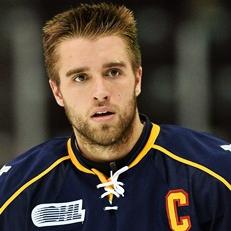 Already the proud owner of a thicker beard than most grown-ass men I know, the 18-year old captain of the Ontario Hockey League's Barrie Colts checks in at six-foot-three, 213 pounds per NHL Central Scouting's official measurements, although International Scouting Services gives him roughly an extra inch and three more pounds. The Canadian-born rearguard has also been a fixture in the hockey media for some time; having applied for early declaration into the 2011 OHL Priority Selection, his petition was unanimously approved by Hockey Canada, with the governing body granting the then 15-year old Ekblad "exceptional player" status, which is a fancy way of saying that the kid was a beast on skates. He became the first defenseman in the history of Canadian junior hockey to be granted such a distinction, and only the second player ever-behind some guy named John Tavares.
Looking at his stat-sheet, there's no need to dig deep for any sort of validation-the kid could play. Immediately inserted into the Colts' lineup, the rookie blueliner skated in 63 of 68 games for the Ontario-based club, posting 29 points off of ten goals from the rear. Finishing eight in team scoring-behind the likes of Los Angeles Kings' 2012 first round choice Tanner Pearson and seventh-overall choice Mark Scheifele of the Winnipeg Jets-the young defenseman finished with a respectable minus-five rating in his first campaign. The rearguard also netted five points off of two goals in postseason contention, aiding former league celldwellers Barrie to a two-round playoff run. The skater would go on to be elected OHL Rookie of the Year.
Building off of his award-winning novice campaign, Ekblad has been nothing short of sensational; through two subsequent OHL seasons, he has recorded 87 points off of 30 goal with an amassed +31 rating through 112 career contests. Furthermore, he has exhibited a sandpaper grit; evidenced by his 189 career PIMS, the surface numbers paint the picture of a highly skilled, two-way blueliner-a stalwart in his own end and a threat in the opponent's-with an abrasive, physical edge.
The story doesn't stop there; sticking to a numerical argument, early indications show Ekblad's ability to elevate his game when needed most. Through 44 major junior postseason contests, the rearguard created 28 points on the strength of 11 goals. Scoring at a clip of .63 points per playoff game is a feat at any level, especially when discussing defensive production. Factor in his age and performance against competition on an elevated level from that of his peers, and the figures pop out all the more dramatically. Shifting to intangibles, he possesses an innate capacity for leadership; named captain of the Barrie Colts for the 2013-2014 campaign as the youngest defenseman on the roster, he lead his squad to the second round of the playoffs before bowing out in six to the North Bay Battalion. Ekblad has also captained his country at two international tournaments to date, leading Canada's gold-medal winning entry at the past U18 Ivan Hlinka Memorial Tournament, as well as Canada-Ontario at the 2013 U17 World Hockey Challenge. On the international stage, he has posted ten points from four goals through ten games, showing no need for an adjustment period as he progresses from level to level.
Congratulations! You are now the proud owner of a comprehensive knowledge of Aaron Ekblad's life story. But who cares about stats and intangibles and a total domination of the opposition at every level he's competed at? Why should Dale Tallon select the blue-chip prospect and herald him as the future of the Panther blue-line, given the opportunity?
Because, just like Olive Garden leftovers abandoned in a van for four hours before being finished, the Florida Panther defensive corps went bad. Fast. In spite of the freezing temperature "refrigerating" that damn chicken scampi that ended up giving me food poisoning the night before a big regatta. Led by elder statesman Ed Jovanovski, a motley crew of young talent and well-traveled vets got lit up over the course of 82 games, surrendering goals at the alarming rate of 3.20 per game, on average. The only team worse? Edmonton. Nine of this year's sixteen postseason bound squads occupy the top ten in GAA; the lowest team on this list, the eight-seed Dallas Stars, dropped to seventeenth, but were spurred on by Tyler Seguin, Jamie Benn and the tenth best offense in the league. And while I understand that Corsi, Fenwick and Goals For values take hit in the absence of a true offensive focal point, you'd figure part of the credit for icing an offense capable of producing a paltry 2.29 Goals per Game (29th in the league) goes to a defense facing struggles in cleanly breaking out of it's own zone.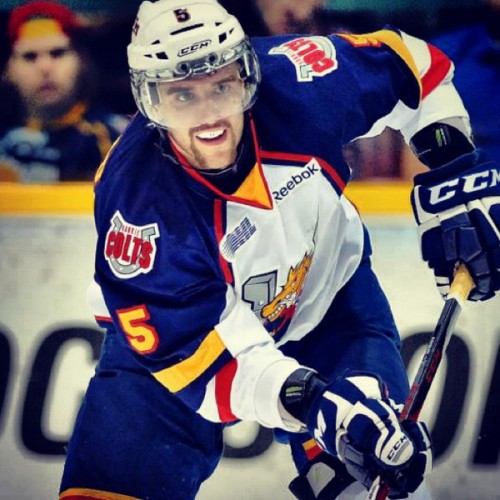 This is where Aaron Ekblad slots in. Drafted by a struggling team, possessing an ideal combination of big and bad, the rookie defenseman figures to see plenty of ice-time in his first year at the BB&T Center. Based on size alone, he appears to have been cast specifically to General Manager Tallon's liking; joining a core of tall, youthful blueliners, Ekblad's NHL-ready size ought to persuade the man at the helm of the draft. Furthermore, his skill-set as a smooth-skating, two-way player fills a dire need for the Cats, regardless of position. The Panthers boast a wealth of highly skilled depth at center; the option exists to slide a pivot to the wing if necessary. Though Hockey's Future lists uncertain depth on the right-wing a weakness of the Panther's prospect pool, the chance to add a draft-defining talent to a struggling back-end supersedes a need that can be addressed in the later rounds of the selection process.
And although a sizeable percentage of the roster desperately needs to accept greater defensive responsibility, adding a player who is equally dominant along the boards and in closing down open ice as he is in joining the rush ought to relieve at least one of coach Peter Horachek's migraines. Furthermore, of the six healthy defensemen left on the season finale team roster, only a singular player-Erik Gudbranson-carried a right-handed shot. Allowing Ekblad to line-up on the power play alongside special teams quarterback Brian Campbell could allow for a rebirth of the power play, evoking shades of Jason Garrison's one-timer from the point with both d-men able to launch a cannonade off of the other's feed. And damn, I miss Garrison. I bought his jersey the year he left. Bastard.
All things considered, it just makes sense; assuming the ping-pong balls fall our way, Buffalo doesn't pull a Cavs-type move and Edmonton doesn't get the first overall pick for the fourth time in five years (ILLUMINATI), Aaron Ekblad ought to remain on the board after the Sabres' top selection. And I'll be damned if we pass him up.
JUST LOOK AT THE BEARD.