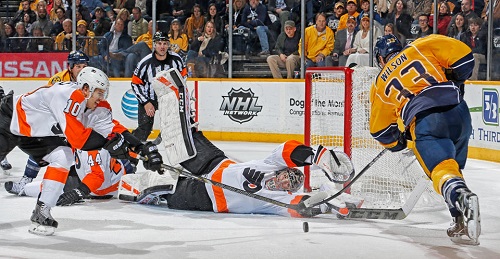 You have heard how phenomenal Steve Mason has been this season for the Philadelphia Flyers. He has activated best mode, posting a remarkable .929 save percentage and a 2.26 GAA in 21 games.
He is carrying a Flyers team that is only averaging 2.17 goals-per-game.
For all this talk about Mason, you don't hear an awful lot of people praising the Flyers organization for taking a gamble and acquiring him.
Before the Flyers traded for Mason, the young goalie was struggling mightily in his career.
After winning the Calder trophy with the Columbus Blue Jackets in his first NHL season (2008-2009), Mason plummeted downwards.
During that Calder winning season, Mason posted a stellar .916 save percentage and a 2.29 GAA. It was nowhere but down after that.
Over his next four seasons with Columbus, Mason posted a brutal .898 save percentage.
Among goalies with at least 100GP over the last four seasons, nobody has a worse save percentage than Steve Mason.

— Jonathan Willis (@JonathanWillis) April 3, 2013
There was constant talk about how the Calder winner would never turn out be what people originally thought he would be.
If the Flyers scouted the recent highlight packages before acquiring him, they would see an unconfident goalie, a guy who could see his career going nowhere fast.
So why, out of all possible options, would the Flyers go after Steve Mason? The team had signed Ilya Bryzgalov in 2011 to whopping nine-year contract, only to see him fail to live up to expectations, forcing the team to buy him out.
The Flyers also were scrutinized for trading Sergei Bobrovsky to the Blue Jackets after the 2011-2012 campaign. Bob would go on to win the Vezina trophy the next year with Columbus.
With these bad goaltending decisions by the Flyers organization, the team still had the guts to take a gamble on an extremely unproven goalie?
That deserves some recognition. If Mason played in Philly this season the way he played in Columbus these past few years, Paul Holmgren would have been ripped to shreds.
The team put their faith in a guy who had one good NHL season. That is all. One season is all the Flyers went off.
What they saw in that one Calder season with Columbus was spectacular though. Talent like that just doesn't dissolve into average talent.
Massive credit must be given to the Flyers for giving Steve Mason a chance to rejuvenate his career.
Over the past three years, some had called Mason the "league's worst goalie". The Flyers though, out of all the teams, decide to be the one to give him another chance.
This could have gone horribly wrong. The Flyers didn't even acquire a proven number one goalie to share time with Mason. Mason was traded to the Flyers, the starting gig staring him right in the face.
Sure the Flyers didn't give up much for him (Michael Leighton and a third round pick), but it's also the fact the Flyers went after Mason (a cheap option) and not a more expensive, proven goalie.
This article wasn't to debate the moves of the Flyers organization and Paul Holmgren. There are many articles debating that. This was to prove that Steve Mason was nothing when the Flyers acquired him. Give the Flyers props because they are known for their goalie struggles, yet they decided to take in a goalie that had only one good NHL season under his belt.
It's nice to finally see good goaltending in Philly.
Haven't been watching the Flyers this season? Here is what you are missing. #StoneColdSteveMason
Be sure to follow me on Twitter @BradyTrett for all the latest insight and analysis on the Flyers.