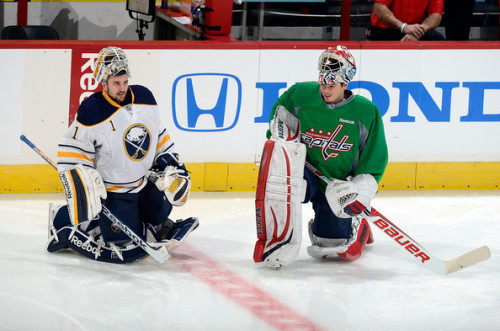 The big questions this upcoming season is who should start in net for the Buffalo Sabres? Jhonas Enroth has been in the organization for several years now. However, Michal Neuvirth has had past success being a starting goaltender. Let's take a look at how they compare.
Jhonas Enroth
Last season wasn't kind to the Swedish netminder. Grant it, the Sabres were just awful all-around. Enroth went 4-17-5 last season with a 2.82 GAA and .911 save percentage. His career GAA (2.75) and save percentage (.913) is about what you will expect from him. Perhaps his tiny frame of 5'10" and 166 lbs is to blame or he just isn't really that good.
Enroth also has the misfortune of having one of the longest winless streaks to memory a few seasons ago. From Nov 2011 to Mar 2013, Enroth was winless for 13 decisions. In that time, he gave up 3 or more goals 10 times! Of course during that period the Sabres were fortunate to have Ryan Miller, who started the majority of the games.
Michal Neuvirth
He didn't exactly have a great season either. Between his time with the Washington Capitals and the Sabres, Neuvirth went 4-8-0. However, in his 2 games with Buffalo, he did post a .949 save percentage. He saw significant playing time during the 2010-2011 season where he went 27-12-4 with 4 shutouts.
Ironically, Neuvirth has the same career save percentage as Enroth (.911) and a slightly better GAA (2.67). If I was Sabres coach Ted Nolan, I would see who is playing the best during training camp and in preseason. The slight edge right now would probably go to Neuvirth.