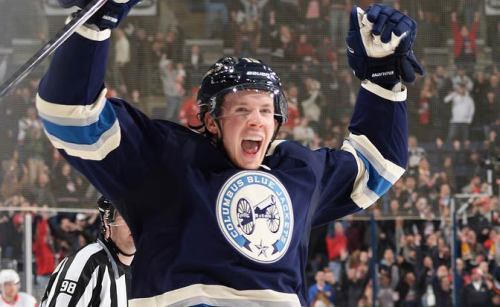 It's been quite the summer for Ryan Johansen and the Columbus Blue Jackets.
The 22-year-old center, coming off a breakout 30-goal season, is a restricted free agent and in need of a new contract. The Blue Jackets would love to lock him up as he's their clear number-one center and a cornerstone of the franchise.
And that's where the pleasantries end.
It's been a long, drawn out battle between both sides since then and they appear to be no closer to actually inking a new deal to get Johansen back in the fold. Sure, they've agreed to the length of the deal – a two-year "bridge" seems to have been agreed upon by both sides – but it's the term that seems to have both sides digging their heels in.
The Blue Jackets have offered as low as $3 million while Johansen's camp is asking closer to the outrageous sum of $7 million per season. The latter is clearly absurd, but it makes sense for Johansen. As a restricted free agent, he has no leverage. The Blue Jackets hold his rights whether he wants them to or not, can match any potential offer sheet and generally have Johansen by the stones. And the offer sheet scenario isn't very likely, either: given his salary range, a team would have to give up multiple first-round picks to obtain Johansen. Is that really what they want to give up for a guy who's had one good year?
He's staying in Columbus, it's just a matter of how much. And the obvious answer seems to lay in the bridge deal P.K. Subban signed before his latest contract. If you'll recall, Subban signed a two-year, $5.75 million deal coming out of his entry-level contract and proceeded to win the Norris Trophy in year two. That earned him a fat, new eight-year, $72 million deal.
Where Johansen suffers is that he doesn't have the resume Subban did before that deal. He's had one good year – and really, everyone in Columbus is thankful for that – but that certainly doesn't warrant what's being asked for. Realistically, he's going to have to take something in the $4 million per season range, and even that is a slight overpayment on the Jackets' part.
The one thing Johansen could do is hold out. Given his agent, Kurt Overhardt, it's not entirely out of the realm of possibility to think that could happen. He's represented Kyle Turris and Ryan Kesler, two drawn out contract sagas, but also represents Brandon Dubinsky, who signed a lengthy extension without much fuss at all. It really depends who is holding the keys here: Overhardt or Johansen. A holdout would hurt the Jackets offensively, but they could hold out forever; Johansen can't just stop making money for the forseeable future without it negatively impacting him.
With the season drawing nearer, it's starting to edge towards uneasy territory, but both sides need the other. Johansen's camp will likely ease their stance, take something far lower than what they want and play for the huge raise in the next deal. The Jackets will likely have to overpay a smidge, but will get their bridge deal in place.
Now if we can just get to that point and stop with the posturing, we'd all be better off for it.
Follow me on Twitter: @TwoPadStackRW