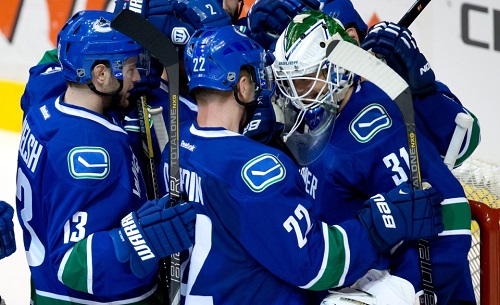 A youth movement on any team can help them be successful. Let's take the Chicago Blackhawks for example who have Saad, Kruger, Bollig and Shaw. These young players that are on either entry level deals or have low cap hits fit in with the depth they bring to make the Hawks a championship contender. These same players also provide the team with secondary scoring while developing their game in the regular season. Entry level contracts free up cap space in the short term and that's what gives flexibility to have so many good core pieces such as Seabrook, Keith, Hossa, Sharp, Toews, and Kane for the Blackhawks.
I believe a youth movement is going to help the Canucks in the long term as long as they don't rely on these forwards right away. It's why they need veterans like Henrik Sedin and Ryan Kesler to help the young-ins flourish from boys to men. You don't want to bring these players in and throw them to the wolves like the Edmonton Oilers have done the past few seasons. The talent the Oilers have in their system is incredible offensively but the team has struggled to get wins because they don't have strong veteran forwards helping lead the way and mentor. The Oilers have literally thrown their young talent on the ice and let them fly.The results speak for themselves year in and year out since the last time the Oilers have made the playoffs. You need veteran forwards to help these young and very talented players ease into the line-up and develop into the players you'd like them to eventually be.
I've never felt as confident in a group of prospects then I do now though with the Canucks system. Young guys like Chris Tanev, Eddie Lack, and Jordan Schroeder already on the team have shown that it's only a matter of time for when Frankie Corrado, Brendan Gaunce, Hunter Shinkaruk, Jordan Subban, Bo Horvat, Nicklas Jensen and Cole Cassels crack the roster and replace this aging squad. You can tell every other night that some of the forwards on the current NHL roster are losing some of their step and that opens the door for bringing in a few young forward like Hunter Shinkaruk whom can change it up for you.
I am not saying to blow up the team and bring in a large amount of young forwards. All I am saying is spend a few dollars this offseason bringing an extra veteran and slowly starting to ease in prospects one by one next season. You have to let these players develop properly and if they can be developed the right way, these players can turn into instant stars.