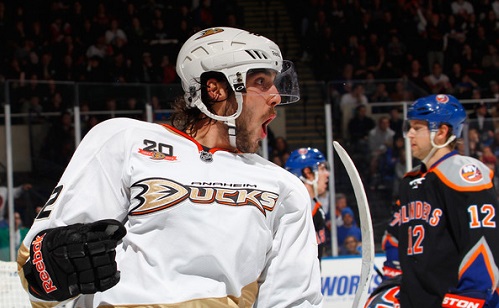 The Winnipeg Jets didn't waste much time addressing their depth at the center position. While it was unclear whether the Jets were going to offer an extension and stick Olli Jokinen; it's become much clearer now. Former Anaheim Ducks center Mathieu Perrault has signed a three year deal (3 million per) with the Jets, meaning Jokinen's time in Winnipeg is more than likely up. With the trade for Ryan Kesler, the Ducks no longer felt the need to retain Perrault and the Jets capitalized.
Although he wasn't the best or healthiest center available, adding a veteran who still has time to grow as a player is nothing for Jets fans to scoff at. Especially at that price.
Perrault spent his first four seasons with the Washington Capitals and last season with Anaheim, but has never played a full 82 games. The most games Perrault has played in his career was last season when he suited up 69 times and contributed with 43 points (18 goals, 25 assists). Perhaps the reason he has had such bad luck with injuries is due to his small stature. Perrault is undersized at 5'10/175 lbs, but with big bodies like: Blake Wheeler, Dustin Byfuglien, and Evander Kane on the roster, the Jets can afford to have a smaller player in their lineup.
Following the breakout season for Mark Scheifele, there is a good chance Perrault gets a spot on the third line, while the 21-year-old Kitchener native getting a shot in the top six.
The Jets still have roughly over 14 million dollars left in cap space; so more signings could be made. Or perhaps we see a Dustin Byfuglien or Evander Kane trade. There are a lot of questions yet to be answered for the Jets, but no matter which way you spin it, today is a fun day to be hockey fan; especially a Canadian one.