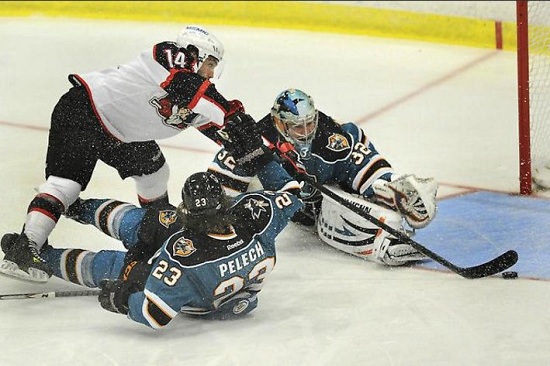 The season couldn't have started much worse for the Worcester Sharks, who enter this weekend with a basement dwelling 0-3-1 record; only the Scranton Penguins have a worse record so far. Despite their lack of success things didn't look too grim for the Sharks opening weekend in Norfolk. Their first loss was a close one, they only trailed by one goal until the Admirals buried an empty netter at 19:56 into the third period to win 4-2. The very next night was a back and forth battle with the Admirals, but the Sharks just couldn't get it done, eventually losing in a shootout despite Harri Sateri denying 3 of the 5 shooters he faced.
A week later the Sharks fell 7-4 to the Portland Pirates in a high scoring game, thanks in part to a struggling Alex Stalock who posted a harrowing .758 save percentage. Coming home to Worcester for the first time didn't seem to help the Sharks much either, as they were shut out by Keith Kinkaid and the Albany Devils the following night. This loss was especially hurtful considering the fact that it was the Devil's first win of the season, and they scored nearly as many goals against the Sharks as they did in their first three games.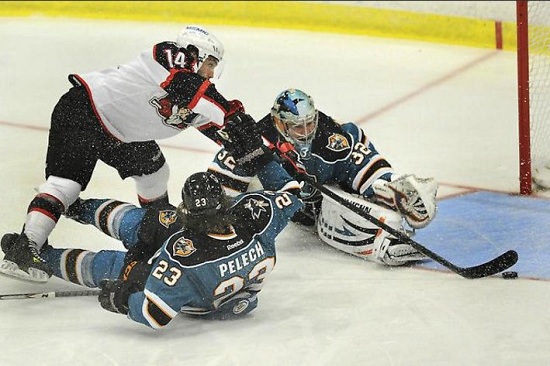 Well the Sharks can't dwell on the past, they need to look towards the future, and the future starts Friday in Worcester. They will kick off a three game weekend against the undefeated Bridgeport Sound Tigers before heading to Manchester to face the first place Monarchs. As if that wasn't tough enough they will head back to Worcester on Sunday to once again face the Sound Tigers. The Sharks will really be tested this weekend, but they will also have a chance to redeem themselves after a disappointing start to the season.
If you are lucky enough to have AHL Live there will definitely be some players wearing teal worth taking a look at. Top defensive prospect Matt Irwin has four assists in his first four games and currently leads the team in points, look for him to play a big role on the Sharks blue line. Right Wing Sebastian Stalberg continues to surprise everyone with his play and has scored three goals in his first four games. That's as many goals as he had all of last season. If he continues on this pace he will end up being the Sharks top goal scorer. Last but not least 22 year old goaltender Harri Sateri has shown potential to surpass Alex Stalock as Worcester's number one guy in net. If he can get some solid defensive support this weekend he could have an impressive outing in Manchester.
My advice for all hockey fans out there, stop wallowing in sorrow over the lockout and start watching some of this great hockey being played in the AHL.