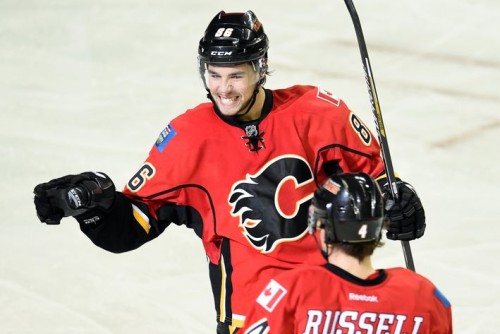 The spectacle that is draft day and free agency may be over for the Calgary Flames and Brad Treliving – with some great success, for good measure – but their work is not over yet.
After pulling the trigger on a blockbuster with the Boston Bruins that landed the Flames another stud defenceman in Dougie Hamilton, Treliving went out and signed underrated forward Michael Frolik, formerly of the Winnipeg Jets. Frolik carries an expensive price tag, but he adds scoring depth up front – something the Flames were in need of last season.
Although the addition of new faces stole the show, the re-signing of Karri Ramo was also a big move after his performance last season. But with the goaltending and defence situation sorted out – at the NHL level, at least – the attention now turns to finalizing the forwards.
Five forwards (all RFAs) remain unsigned: Josh Jooris, Lance Bouma, Paul Byron, Michael Ferland and Drew Shore. The former three – each of whom played a big part in the success of last year's team – are all scheduled to go to arbitration and would be big losses to Calgary on the defensive side if they are unable to sign.
After being called up early on last season, Jooris appeared in 60 games, posting a modest 24 points, while registering 34 takeaways, 29 blocks and 59 hits. Byron, meanwhile, missed some time due to injury, but in 57 games still put up career highs in hits and blocks with 101 and 24 respectively.
Bouma – who had a mini-holdout of his own in the summer of 2014 – had what could very well be considered a career year in 2014-15. He played in 78 games, contributing 82 blocks (five fewer than the previous season) while putting up career highs in points (34) and hits (264).
Between Ferland and Shore, only the latter didn't have much of an impact in Calgary last season (he played only 11 games with the team). Even Ferland's regular season performance left something to be desired, especially after seeing the player he can be in the playoffs – a dominant power forward with some finish ability that can also get under the skin of the opposition.
Players such as Ferland don't carry the same kind of star appeal as that of Hamilton, but there's no questioning the value of the players listed above to the Flames. They may not be make-or-break players, but to lose any of them would have adverse effects on Calgary's success.
Love Reading About Hockey?

Subscribe to keep up-to-date with the latest and most interesting hockey news!
| | |
| --- | --- |
| | We hate spam just as much as you |