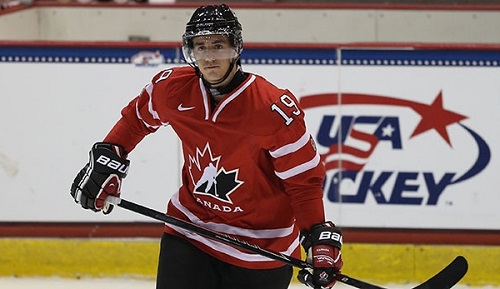 The 2014 World Juniors have come to a close in Malmo, Sweden, with Finland taking Gold in an overtime thriller over Sweden. The Winnipeg Jets were represented by four prospects: Andrew Copp (USA), Jan Kostalek (CZE), Josh Morrissey (CAN), and Nic Petan (CAN). Though none of the prospects brought home any medals, they all played every game for their country and gained valuable experience. Here's how they all fared individually.
Nic Petan (C) – Canada (7 GP, 4 G, 1A, +2)
The 18-year old was one of Canada's go-to offensive weapons, and Petan finished with 4 Goals and 1 Assist, including some timely goals against the US and Slovakia. Due to the youth of the Canadian team, Petan found himself placed in key situations many times, and gained lots of valuable experience. The future is bright for the native of Delta, BC, and he had a good tournament to show exactly that.
Josh Morrissey (D) – Canada (7 Gp, 1 G, 2 A, +3)
Morrissey was considered a bit of a reach when he was selected 13th overall in the 2013 draft, but his stock has quickly risen ever since. Morrissey managed to finish a +3 on Canada's inconsistent and undisciplined backend, and played good hockey for a 18-year old, while chipping in with some offense. Morrissey will have a good chance at making Team Canada next year, where his development will further continue.
Andrew Copp (C) – USA (5 GP, 0 G, 5 A, +3)
Though the United States underachieved as a team, former 4th rounder Andrew Copp played a very solid game all tournament long. He plays a great two-way game, and plays a very mature game for his age. The Jets' 2013 draft continues to look excellent.
Jan Kostalek (D) – Czech Republic (5 GP, 0 G, 1 A, +/- 0)
Kostalek had a strong tournament on a Czech Republic team that did not make much noise. The defenseman has developed tremendously in the QMJHL this season, and while he's not a great offensive defenseman, his shutdown skills make him very valuable to the Czech.