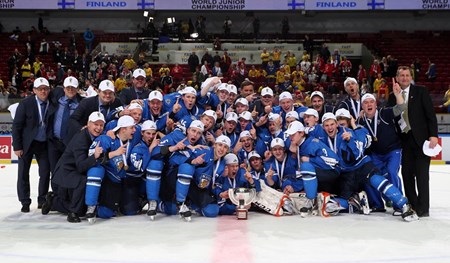 After a grueling rivalry match against Sweden for the gold medal, Finland managed to redeemed themselves for their seventh place finish last year by taking home the gold medal.
This marks the first medal for Finland since they won bronze in 2006 thanks to the solid goaltending of Tuukka Rask and the first gold medal for the Finns since 1998, which was won thanks to the overtime heroics of Niklas Hagman.
Finland managed to keep their rival Swedes on their toes for much of the game, often dominating the game throughout the final match. The Finns struck early in the first period with a goal in the opening 30 seconds from Dallas Stars prospect Esa Lindell, assisted by Saku Mäenalanen and Teuvo Teräväinen. The chants of "Let's go, Sweden!" persisted, but the Finns didn't let that get to them and continued to play a great game and defend their lead, with goaltender Juuse Saros deflecting shots and being there any time his team needed him.
Coming in to the second period, the Swedes dominated the offense and forced the Finns into a defensive stance. Their offensive domination paid off at the 7:53 mark when Lucas Wallmark sent a slapshot flying past Saros and tying up the game 1-1. The Swedes had no time to enjoy their lead as Finland's Saku Mäenalanen put his team back in the lead less than a minute later with a goal assisted by Teräväinen and Artturi Lehkonen. The second period came to an end with Finland once again leading the game with a 2-1 score.
The third period came with the Swedes looking to tie up the game, if not win. The period looked pretty evenly matched until Sweden's Christian Djoos managed to score on Saros 11 minutes into the period with a goal assisted by Wallmark and Sebastian Collberg. This proved to be the only goal in the period, leading the teams into overtime.
Overtime came as the moment of truth for Finland and Sweden, with the next goal being the one that would crown their team as the gold medal winners of 2014. Play was tough and evenly matched with Finland getting off many shots, but Sweden really throwing their weight around defensively, as they had been doing the whole game. While Oscar Dansk played well and made many great saves in net for Sweden, he just wasn't a match for Rasmus Ristolainen, currently playing for the Buffalo Sabres in the NHL, when he sent the puck under Dansk's right leg and into the net for the gold medal winning goal.
Upon Ristolainen's goal, Finland's players erupted into celebration while their rivals sat stunned and teary eyed, losing the game in front of a home crowd.
This win puts Finland in Group A for next year's WJHC, along with Canada, United States, Slovakia and Germany.