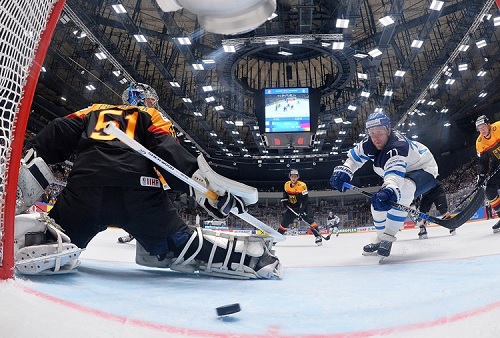 If there's one think Team Finland likes to do in international competition, it's come out of the gate swinging and try to make a name for themselves early, and that's just what they're doing after taking out Germany 5-1, their second game in a row to win by a 4 goal margin.
In their matchup against Belarus, Team Finland's 18 year-old Patrik Laine set the tone for the game and helped the team get and stay ahead. This game was no different, with Laine once against finishing the matchup with two goals and an assist against Germany.
"He's playing great," forward Mikael Granlund said of Laine. "He plays at a high level. He needs to keep enjoying these games."
Unlike their game against Belarus in which Finland struggled in the first period, the Patrik Laine started the scoring early, slamming home a beautiful powerplay one-timer from Juuso Hietanen just six and a half minutes into the game. It was only minutes later that Laine and Jussi Jokinen would assist on a goal from Leo Komarov on another powerplay.
The second period started with the Finns in a 2-0 lead, and would be riddled with penalties, much like the first. Germany fought hard on the penalty kill, but fell short while on 4-0n-4 when Sebastian Aho widened the deficit to a comfortable 3-0. More penalties came and were once again killed off, that is until the last three minutes of the period as Jarno Koskiranta notched a fourth goal for his team. Germany didn't go into the final period silent though, answering Koskiranta's just a minute later to bring the score to 4-1 as the period wound down.
Germany continued struggling offensively in the third, failing to capitalize on two more powerplays and giving up a fifth an final goal to Patrik Laine, bringing the final score to 5-1.
Finland is coming off of two big wins, but will need to stay focused as they face one of the biggest challenges in this tournament, USA.