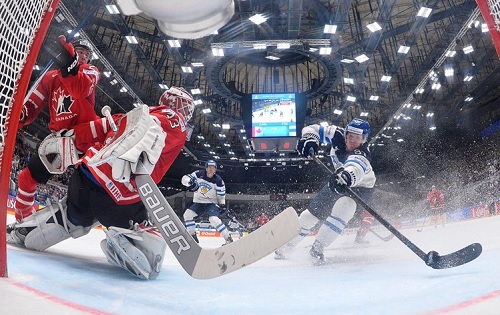 As the 2016 World Championship rages on in Russia, Team Finland continues to reign supreme, extending their undefeated streak to seven games after taking out Canada with a 4-0 shutout heading into the playoffs.
"Our goal is to get better as the tournament goes on and that was our game plan tonight," Mikko Koivu said. "We knew it was going to be a big challenge, if not the biggest challenge so far in the tournament. If you start to think about the result before you play the game, usually that doesn't work. We wanted to play a good game. We wanted to raise our game, and I thought we did. That's a good sign. Again, it's just a good first step."
The first period was seemingly evenly matched for both teams, with neither scoring during the period and only one powerplay for Finland, which hailed no goals for the Finns.
The Finns didn't have quite as hard of a time scoring in the second period when Cam Talbot attempted to clear the puck from behind the Canadian net, only for it to be stolen by Mikko Rantanen and managed to get it over to Tommi Kivisto, who sent the puck right under Talbot's pad for the first goal of the game. Canada upped their pressure on the Finns, but were unable to contain Leo Komarov, who broke through their defenses and sent a blistering slapshot to Talbot, blocking the shot but the puck still managed to slip past the line and into the net, giving Finland a 2-0 lead. If those two goals weren't enough, Finland found themselves on the board once more before the end of the period, with Mika Pyorala and Sebastian Aho teaming up on Talbot, allowing Pyorala to light up the lamps on a rebound.
Canada came into the final stanza with very little room to breathe and before they got a chance to get their heads above the water, Jarno Koskiranta took advantage of a rebound in the opening moments to bring Finland's dominating lead to 4-0. Despite stepping up the pressure and creating some very promising scoring chances, Canada was unable to ever answer back, falling in a crushing defeat to the undefeated Finns for their first loss of the tournament.
Finland faces Denmark as they prepare for the playoffs.