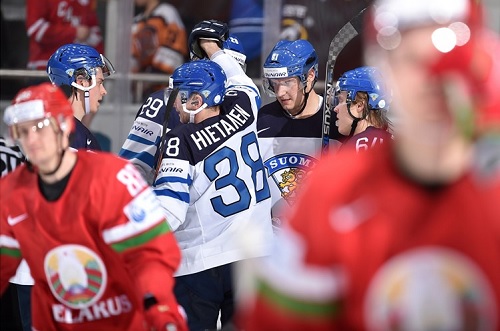 While the Stanley Cup playoffs are raging away in North America, there's another battle being fought in Russia with the beginning of the 2016 IIHF Ice Hockey World Championship. Team Finland is looking to earn themselves another international medal and got off to a strong start, taking out Belarus 6-2.
Finland's Patrik Laine was the shining star of the game, notching two goals an an assist during the matchup. In addition to Laine, Mikael Granlund also brought in two goals and an assist with equally impressive play throughout the game.
The first period was well  fought by both teams, keeping each other scoreless throughout the period. With both teams giving each other hell, Belarus exhibited the strongest play in the first, outshooting the Finns 8-4 and applying pressure all over the ice, resulting in two powerplays for Belarus.
After an intermission, Finland came back in the second and went at Belarus full force, resulting in an early goal when Patrik Laine burst through the neutral zone and fed the puck to Aleksander Barkov. Barkov returned the puck to Laine, who sent it into the net for a beautiful goal. The pressure continued throughout the period, with The Finns extending their lead midway through the stanza when captain Mikko Koivu pushed his way to the neck and knocked the puck in for a comfortable 2-0 lead. That comfort wouldn't last long, with Belarus narrowing the deficit the 2-1 later in the period, but it only took less than a minute for Finland to bring it back to a two goal lead when Patrik Laine slammed a one-timer home off a Koivu pass on a 5 on 3 powerplay, then assisted Granlund on a goal shortly after, ending the second period with a 4-1 lead.
"In the second period we came out flat and started taking penalties and that hurt us," said Belarus forward Charles Linglet. "They've got some pretty good players on the power play and our pk had a hard time keeping up."
Heading into the final period of the matchup down by three points, Belarus spent the remainder of the game struggling to keep their head above water, with the Finns lighting up the lamps twice in the early moments of the period. Belarus captain Alexei Kalyuzhny responded with a goal, but it just wasn't enough as the clock ran out in favor of Finland.
Love Reading About Hockey?

Subscribe to keep up-to-date with the latest and most interesting hockey news!
| | |
| --- | --- |
| | We hate spam just as much as you |