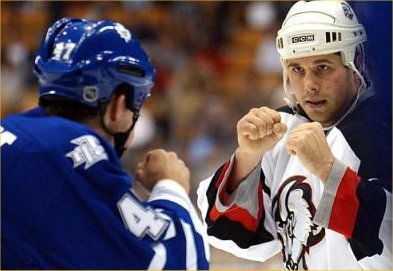 "You bring a toolbox into the arena for every game. There's a lot of things in that toolbox: speed, goaltending, scorers, intimidation. If you make a team pay a physical price, many nights that's going to influence the outcome of the game."

-Brian Burke
With the new movie Goon being released in Canada last week (set to premier March 30th in the US), I've been noticing more and more that there is an overwhelming amount of talk concerning the physicality involved with ice hockey, especially when it comes to fighting. Heck there is even a Wikipedia page (with surprisingly good information) on "Fighting in Ice Hockey". All the talk brings up the same old questions. Why do they fight? Is it necessary? Should it be banned?
In any given game one could find a scrap, but it's generally the referees who control when a full fight may come to fruition, and that's most commonly seen in the NHL. It would be rare to see the type of professional fist-to-fist brawl in a youth or college game, though it does happen. On the other hand, anyone who has witnessed a Junior or AHL game knows how often those boys like to throw a punch. For simplicity, we will be focusing mainly on fighting in the NHL.
The first article I came across that began this upswing of fight chatter was out of an October 2008 Sports Illustrated. In "Why Good Teams Fight", Michael Farber discusses how NHL teams are "muscling up with a new breed of tough guy". A few big names Farber mentions still resonate today, such as Georges Laraque, who was deemed a "good insurance policy", and the late 6'7″, 258-pound brawler Derek Boogaard. These guys weren't afraid to throw down and rack up penalty minutes for the benefit of inspiring their team. More recent names to be flung into this fearless class of fighters would include Brad May (career 2248 PIM), Chris Pronger (1580), and Sean Avery (1512), and personal favorite Shawn Thornton (only 740 PIM thus far, but 582 of those have accumulated since joining the Bruins in 2007).
Fighting serves a purpose in ice hockey; players know it and agree by a 98% majority that it should not be banned. Attending a game it is easy to see that it plays a fundamental role, whether to rally the team or prove a point, it's going to occur. The common misconception amongst fans is that a fight manifests out of anger, when in reality most fights are much more controlled and used for a specific purpose. There are those fans who like to say they went to a fight, and a hockey game broke out, but in the NHL fights are used, like Brian Burke said, as a tool for the job of winning the game.
On February 18th outspoken critic Don Cherry imposed his thoughts on the subject. In his weekly "Coaches Corner" segment on CBC's "Hockey Night in Canada", Cherry ranted about how the Detroit Red Wings lack of physicality leaves a lot to be desired.
"Cherry espouses the theory that only tough teams, which he defines through fighting, are in contention to win the Stanley Cup." – GERSTNER, JOANNE C. "Cherry Says Red Wings Don't Fight Enough to Win." Slap Shot. New York Times. Web. 26 Feb. 2012.
It has always been true that the Red Wings are the Peace Action team of the NHL when it comes to brawling, but that does not mean that they're lacking physical play. Detroit is the exception to the rule. "Following a philosophy instilled by Scotty Bowman when he coached there in the 1990's, they have drafted and developed a team that is a unique blend of high-end skill and two-way grit. There's no other NHL roster like theirs" (Farber). The Red Wings have nothing to worry about; they made the playoffs in 25 of the last 27 seasons, including the last 20 in a row (1991–2011) and are currently 2nd place, two points behind Vancouver, in the Western conference. It is perhaps one of the reasons why the Red Wings are so hated, they've learned how to correctly play their Europeans and stay out of the penalty box.
Everyone will have their own opinion on the matter, but fact is fights are a part of the game, and looks like they will be for quite some time. Don't believe me? Next time you're at a game take notice of what gets fans on their feet (hint: goals and… you guessed it).
Here are a few little nuggets of interest I found along the way:
Ryan VandenBussche: The Canadian played 9 seasons in the NHL, best known for being a goon, and while he only racked up 702 PIM, they are some of the best earned of any NHL enforcer. If you've got a free minute and want to see a quality fight, Youtube his name, guarantee you that "fight" will autofill before you can complete your search.
Rob Ray: During scraps, Ray routinely removed his helmet, jersey, and pads, giving opponents nothing to grab on Ray's body. Consequently, the NHL created a new rule enforcing additional penalties for players who removed jerseys or pads during a fight. Pundits saw this as a direct result of Rob Ray's style of fighting, and nicknamed the rule the "Rob Ray Rule", also thought to be the reason the NHL introduced fight-straps to jerseys.
http://sportsillustrated.cnn.com/vault/article/magazine/MAG1146209/2/index.htm
http://slapshot.blogs.nytimes.com/2012/02/21/cherry-says-red-wings-dont-fight-enough-to-win/