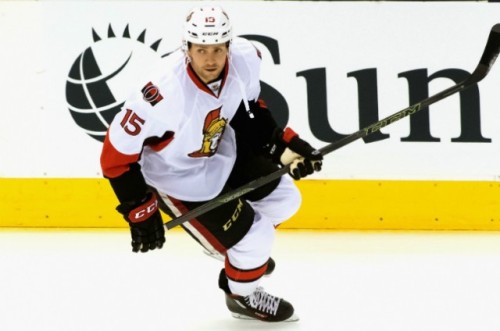 It's easy to forget the lows when you're on a high. Just ask Zack Smith.
Having missed just one of Ottawa's regular season games between October 2011 and April 2014, while averaging 0.30 P/GP – not spectacular, but decent production for a bottom six forward with a mean streak – Smith appeared to be settling into his role nicely. But those positives seemed a distant memory in 2014/15 as his fortunes took a definite turn for the worst.
After stumbling out of the gate to the tune of three points in Ottawa's first 27 games – his only three points of the season – Smith suffered a dislocated wrist in a game against the Boston Bruins on Dec. 13. That injury would sideline him for 42 games, and upon his return in late March he clearly wasn't the same player.
So with an injury-plagued, unproductive and altogether forgettable season in the rear view mirror, Smith entered training camp this past September with the bar set low. He showed some rust early, needing seven games just to register his first point (a goal), but by the end of calendar year 2015 he was already at the 10-point mark on the strength of eight goals.
Flipping the calendar to 2016 didn't do much to inspire more production out of Smith – that is, until he found himself some new linemates. Since being teamed up with feisty centre Jean-Gabriel Pageau and turnover machine Mark Stone at the beginning of February, Smith has put up an astonishing 19 points in his last 21 games, including 12 goals.
With 10 games remaining for the Sens this season, Smith has already set career highs in goals (21), points (31), PPGs (4), PPPs (5), SHGs (4), SHPs (4) and plus/minus (plus 11), and is one goal shy of tying his career-high four GWGs. What makes those feats even more impressive is how incredibly efficient he has been when in possession of the puck.
Smith has taken only 99 shots – ranking ninth among Sens – but has still managed 21 goals for an incredible 21.2 shooting percentage. To put that in perspective, Smith ranks 13th in the league behind some players who have as few as three shots. But among players with a minimum of 90 shots, he's comfortably ahead of second-place Jaromir Jagr (19 per cent).
Smith's recent offensive surge has also called into question his role with the team: Can he handle a full 82-game slate as a top-six forward with the pressure of being a goal scorer? He has remained remarkably humble throughout this recent surge – "I know what kind of player I am" has consistently been his response to this new found success – or maybe he's just being realistic.
This is a player whose previous career high in goals was 14 in 2011/12, which, until now, was the best season of his career. To thrust such lofty expectations on someone with not much of a track record for providing offence on a team that also includes Mike Hoffman, Bobby Ryan and Kyle Turris, among others, would be illogical and could create a rift in the dressing room.
But a spot on the third line in which Smith can get back to his usual physical, gritty self while chipping in 15-20 goals seems like a much more attractive role. Until such a time comes, though, Smith and his teammates should enjoy this marvelous run for what it is – a heartwarming story in an otherwise disappointing season.