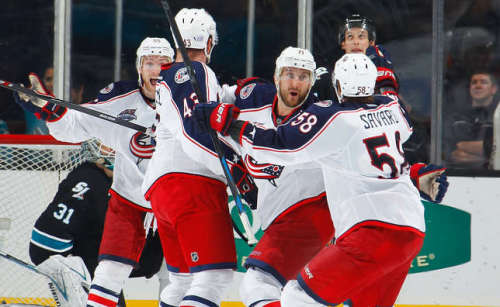 Welcome to "Three things", your recap-like-substance for Columbus Blue Jackets games. No one wants to read "this happened, then this happened" boring recaps, so instead of doing that, we'll look at three important things from the night's action and talk about those.
Let's get to it: here are three things from last night's frantic 5-4 win in San Jose.
Slow Starts part deux
So the Blue Jackets are making a nasty habit of falling behind early and it's a trend that needs to go away if they hope to keep winning. For the third time I can think of off the top of my head, the Jackets fell behind 2-0 and overcame said deficit.
It helps when your hottest players keep playing like their hair is on fire (more on them later), but there's no way it can be sustainable. You can't keep spotting the other team leads and expect to keep winning, but this is also very encouraging for a few reasons. First is obviously that they're doing this without half their lineup. If they are winning games without some of their best players, the ceiling rises when they return.
Secondly, it's encouraging because it shows this team has resolve and can fight back, not giving in when they're down. A team that believes they're in it regardless of the score or what's happening on the ice is always dangerous and never out of it.
Ryan Johansen, ayyayai
After each game, I keep telling myself that there's no way Johansen can keep up his pace, that he'll slow down eventually and the effects of missing training camp and the preseason will finally show. Instead, he just keeps churning along like it ain't no thang.
He's playing a ton (led Blue Jackets forwards in TOI with 18:51 last night) which is even more impressive given the shape he was in when he finally did join the team. He's played himself into shape quickly and hasn't lost any of his offensive abilities so far. He's leading the team in goals with five through six games and he's making last year's breakout look less and less fluky. It's six games in, sure, but Johansen has looked like the real deal for all of them.
The supporting cast
For a group that was supposed to be depleted coming into this season, they sure aren't playing like it. Aside from Johansen, who has been consistent as can be so far, the team is getting big performances from all over the place. Cam Atkinson had three goals in the first two games, both wins. Nick Foligno continues to play his butt off, adding another goal and an assist to keep pace with Johansen for the team scoring lead.
They're even getting contributions from unsung guys like Mark Letestu, who had a pair last night, including the winner with just :21 left. The Jackets might not look like a contender on paper just yet, but their performance early in the season in the face of such adversity is huge for this team and when the reinforcements arrive, they're going to be scary.
Love Reading About Hockey?

Subscribe to keep up-to-date with the latest and most interesting hockey news!
| | |
| --- | --- |
| | We hate spam just as much as you |