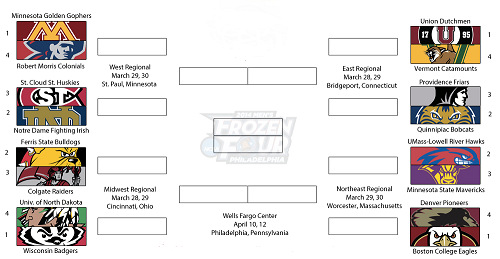 In case you'd like to brush up on the teams competing for this year's Frozen Four, here's a look at each team in the bracket, as well as game times and TV scheduling. May your brackets serve you well.
East Regional, March 28-29 – Webster Bank Arena, Bridgeport, Conn.
March 28, 2:00 p.m. EST — No. 1 Union (N.Y.) vs. No. 4 Vermont – ESPNU/WatchESPN
Union – Dutchmen:
Ranked No. 3 overall, the Dutchmen completely leveled the ECAC, taking first place by eight points. They feature Daniel Carr with 44 points and 22 goals, Daniel Ciampini with 19 goals, and Colin Stevens in goal with 1.96 goals against average and a league leading .931 save percentage. They won their conference, and if they can take care of Vermont, they'll have the opportunity in the tournament to demonstrate that they're more than a big fish in a little pond this season.
Vermont – Catamounts:
UMass Lowell had a tough time with the Catamounts in the first round of their run at a Hockey East Championship repeat. The Catamounts led the River Hawks until 11 minutes into the third period in the first game and won the second one. Chris McCarthy led the Catamount offense with 40 points this year, while Brody Hoffman ended the season third in goals against average with 2.01 and fourth in save percentage with .927.
March 28, 5:30 p.m. EST — No. 2 Quinnipiac vs. No. 3 Providence – ESPNU/WatchESPN
Quinnipiac – Bobcats:
The Bobcats beat last year's NCAA champions, Yale, handily in the first round of the ECAC, scoring 11 goals in two games to make the sweep. They went on to lose to Colgate 3-2 in the semifinal, but they possess goaltending talent- Michael Garteig led his league with a 1.94 GAA- and scoring ability-Sam Anas scored 43 points and 22 goals, while Connor Jones tallied 42 points- that could serve them well in this year's NCAA tournament.
Providence – Friars:
The Friars finished third in Hockey East behind two respectable teams in Boston College and UMass Lowell, despite only having one player-Ross Mauermann- score more than 30 points. They lost 3-1 to New Hampshire in the semifinal of the Hockey East Tournament. Jon Gillies, their goaltender, is a Calgary Flames prospect who, before losing to New Hampshire, had not given up more than two goals in a month. He ended his season with a solid 2.20 save percentage.
March 29, 3:00 p.m. EST – East Regional Championship
Midwest Regional, March 28-29 – U.S. Bank Arena, Cincinnati, Ohio
March 28, 4:30 p.m. EST — No. 2 Ferris State vs. No. 3 Colgate – ESPN3/WatchESPN
Ferris State – Bulldogs:
Ferris State fended off Minnesota State in the WCHA standings to take the regular season by one point, but it couldn't keep its rival at bay forever. The Bulldogs lost 4-1 to the Mavericks in the conference final. The loss prevented them from getting a one seed in the tournament despite winning 28 games overall this season. They're led by Hobey Baker candidate goaltender CJ Motte and leading scorers Justin Buzzeo and Garrett Thompson, each with 32 points.
Colgate – Raiders:
Colgate couldn't compete with Union in the ECAC standings, and they couldn't handle them again when they got to the conference finals. The Raiders trailed the first place Dutchmen by eight points in the regular season, and they lost 5-2 to them in the championship game. However, the Raiders have some scoring talent in the Spink twins, Tyson and Tyler, who led their team in points with 33 and 30, respectively. The team also features Darcy Murphy, who scored 19 goals this season.
March 28, 8:00 p.m. EST — No. 1 Wisconsin vs. No. 4 North Dakota – ESPNU/WatchESPN
Wisconsin – Badgers:
The Badgers won the Big Ten championship this year, in part because the powerhouse Minnesota Gophers were knocked off early on by No. 21 Ohio State. Wisconsin boasts Hobey Baker Candidate goalie Joel Rumpel, whose .930 save percentage was second best in the conference. The offense features Mark Zengerle, 43-point scorer and overtime hero of the conference finals over the Buckeyes; Anaheim Ducks prospect Nic Kerdiles who scored 37 points; and Michael Mersch, a Kings prospect with 22 goals this season.
University of North Dakota – Fighting Sioux:
North Dakota does not have a big time scoring leader, its leading scorer Rocco Grimaldi only netting 14 goals, but the team took its frustration out on Western Michigan in the third place game of the NCHC Frozen Faceoff after it was knocked out of the semifinal round by Miami. They scored five times that game. Most notable of their roster is Zane Gothberg, who led the NCHC with a 2.05 goals against average.
March 29, 6:30 p.m. EST – Midwest Regional Championship
Northeast Regional, March 29-30 – DCU Center, Worcester, Mass.
March 29, 4:00 p.m. EST — No. 1 Boston College vs. No. 4 Denver – ESPNU/WatchESPN
Denver – Pioneers:
The Pioneers are a strong four seed. Though they ended their season in sixth place, they clawed their way to the top and beat Miami in the NCHC tournament final. In goal this season, Sam Brittain led conference in save percentage with .932. They're scoring leaders posted modest stats, Trevor Moore leading the team in goals with just 13.
Boston College – Eagles:
The Eagles feature Johnny Gaudreau, the 69 point scorer expected to run away with the Hobey Baker Award this season. But the Eagles, initially thought to cruise through the post season, couldn't get out of a three game series in the first round of the Hockey East Tournament with, who else, but their hated rivals from Notre Dame. Not an easy way for BC to end their Hockey East season, and it definitely brings up some question marks for the power house in this NCAA tournament.
March 29, 7:30 p.m. EST — No. 2 Massachusetts-Lowell vs. No. 3 Minnesota State-Mankato – ESPN3
Umass Lowell – River Hawks:
Before Norm Bazin, the River Hawks had nothing. In three years with him as head coach, they have two Hockey East Championships and three NCAA tournament bids with a Frozen Four appearance (2013). Lowell dominated New Hampshire in their conference final, thanks in part to Connor Hellebuyck, a Winnipeg Jets goalie prospect with 12 career shutouts in just two collegiate seasons and a conference leading 1.73 goals against average in 2013-14.
Minnesota State – Mavericks:
The Mavericks stole the conference final from regular season champion Ferris State, but they're coming from a weaker conference and still have plenty to prove. They're led by JP Lafontaine, who 20 goals and 20 assists, Matt Letner, who posted 44 points, and Johnny McInnis, a 21 goal scorer.
March 30, 5:00 p.m. EST – Northeast Regional Championship
West Regional, March 29-30 – Xcel Energy Center, Saint Paul, Minn.
March 29, 5:30 p.m. EST — No. 1 Minnesota vs. No. 4 Robert Morris — ESPN2/WatchESPN
Minnesota – Golden Gophers:
Minnesota's high powered offense scored 3.41 goals per game, and Adam Wilcox led the Big Ten in goals against average and save percentage, but they were still knocked out of their conference tournament in the first round by No. 21 Ohio State. Despite this, they're ranked No. 1 in the country and expected by many to win the Frozen Four this season. Unlike with BC, they lost a one game playoff, a little more understandable than if it were a three game series.
Robert Morris – Colonials:
The No. 47 Colonials are the longest of long shots in this season's tournament. They snuck in after they won the Atlantic Hockey Postseason Tournament, and it's their first ever tournament appearance. They're led by Cody Wydo, who scored 52 points this season, 30 of them goals.
March 29, 9 p.m. EST — No. 2 Notre Dame vs. No. 3 St. Cloud State – ESPNU/WatchESPN
St. Cloud State – Huskies:
Featuring a Hobey Baker candidate in Nic Dowd, the Huskies were swept out of the first round of the NCHC Tournament by Miami. Dowd scored 21 goals for St. Cloud State, while Jonny Brodzinki followed close with 20. Their goaltender, Ryan Faragher, ranked fifth in the conference with a .906 save percentage.
Notre Dame – Fighting Irish:
It's almost a tossup for "Upset of the Season" between the Fighting Irish and the Buckeyes for biggest upset, but scoring seven straight goals at Chestnut Hill to kick off the Hockey East Tournament might give Notre Dame the edge. The Irish have four NHL prospects leading their offense in T.J. Tynan (CLB), Vince Hinostroga (CHI), Bryan Rust (PIT) and Mario Lucia (MIN), and their goaltender, Steven Summerhays, had a solid season with a 2.00 goals against average, second in Hockey East. The team saved their season in the final stretch with 7-0-1, but after beating one of the best teams in the nation in BC, they hit a wall against Lowell, ending their season with a 4-0 loss.