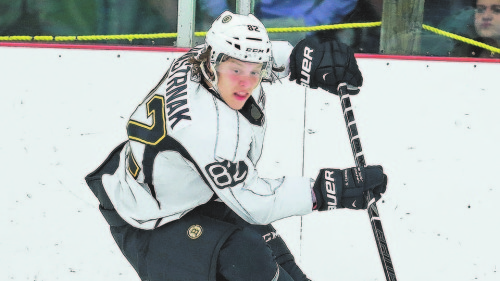 For five days last month, David Pastrnak left his first mark on the Boston Bruins system with an impressive five day development camp.
Signed two days after the camp's end, the 2014 first round draft pick also left a big impression on his fellow prospects who were with him that week at Ristuccia Arena in Wilmington, MA.
Rob O'Gara, fourth year defenseman prospect, said that Pastrnak can really wear out defenders with his ability to move. Not only is he fast at just five-foot-ten and 165 lbs, but the Czech can move laterally in a way that makes it hard to keep up, even for an NCAA champion defenseman in O'Gara.
"The way [Pastrnak] can handle the puck while moving at high speeds, that's certainly not something a lot of guys can do," O'Gara said. "How he moves his hands and his feet at the same time, that's at a different level. A special talent level."
But it's not just his mobility that makes him a valuable weapon. Anders Bjork, a 2014 fifth round draft pick by the Bruins and who played wing on Pasrtnak's line in some drills and scrimmages in Wilmington, said Pastrnak often turned dead plays into scoring opportunities.
On one occasion, during a corner drill in which Bjork and Pastrak were on offense, Bjork stood in front of the goal waiting for a pass while Pastrnak fought in the corner for the puck with a defender. From what Bjork could tell, the defenseman and the goalie weren't going to let a pass get through. He figured the play was over.
Pastrnak thought otherwise.
"He came around and just feathered a pass right at me [from the corner]," Bjork said. "I felt like I was covered, so I thought he was going to shoot it, but he feathered it through the d-man's skates and under the goalie's stick, and it was right on my tape.
"It was one of the easiest goals I ever scored," Bjork said. "I was just standing there. It ended up right on my tape."
Bjork had played against Pasrtnak previously in international play, Bjork an American, but being on the same side allowed Bjork to see just how talented his Czech peer is, from his creative vision to his execution.
"When you play against [Pasrtnak], you don't realize all the little things he does so well," Bjork said. "Just the little moves and jukes and his passes and stuff. When you play with him, I just realized how skilled he was and what great plays he makes. He was great to play with, definitely."
And the crowd let Pastrnak hear it when he did something special that week.
"You can hear the 'Ooh's from the crowd," O'Gara said. "It's a crowd that's not particularly rooting for anyone, it's pretty quiet at camp, and when you're doing things that are kind of special and getting that kind of reaction, you know you're doing something pretty cool."
Bjork said Pastrnak did more than put on a good show for the crowd, though. He helped Bjork settle into his first week with a spoked B on his jersey.
"I think that helped a lot," Bjork said. "Just playing with a player of that skill level, you kind of know you have to play better too, and it made it a little easier to play at the level and that pace."
Love Reading About Hockey?

Subscribe to keep up-to-date with the latest and most interesting hockey news!
| | |
| --- | --- |
| | We hate spam just as much as you |