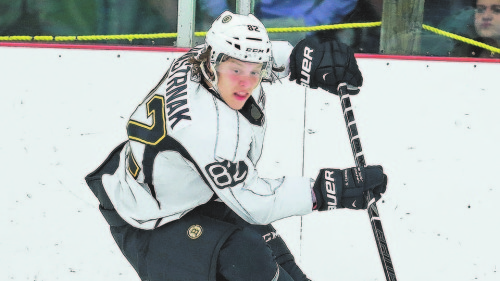 David Pastrnak might have what it takes to make the Boston Bruins roster this season, possibly even with the team's top scoring line.
If that's the case, the Bruins might be able to erase a few big question marks that have been hanging over their heads this summer – their speed and their post-Iginla scoring lines.
We've known Pastrnak has had a shot at making the Bruins roster this season since he lit up Development Camp that was held back in July in Wilmington, MA. The Bruins signed him shortly after camp ended.
Since then, Bruins General Manager Peter Chiarelli said that Pastrnak "fits the bill" with his skill set. Last week, Chiarelli would not rule out that the 18-year-old could find time on the top scoring line with David Krejci and Milan Lucic.
Beyond the hands, the feet, the vision – what will make the difference for Pastrnak is his speed. He's incredibly quick, not just as a head-on skater but laterally as well. Rob O'Gara, a Bruins defenseman prospect who won a NCAA championship with Yale in 2013 and who was present at Wilmington this July, said Pastrnak's ability to move back and forth in the offensive zone with the puck made him exhausting to cover at camp, saying he is at a "special talent level."
If Pastrnak is really that fast, and if he can make it work in the NHL, then the Bruins will have gotten a little quicker in a division that out-skated them in the Eastern Conference Semifinals. It's preferred that the team find a defenseman similar to Torey Krug, but a forward is still a step up.
But more importantly, if Pastrnak can find his way to the David Krejci line, which Peter CHiarelli wouldn't rule out last week ("If he lights it up, maybe he gets into the upper lines to start," he told reporters), then the Bruins would be able to keep from doing what was rumored this summer- promoting Loui Eriksson and Dan Paille from the third and fourth lines.
Eriksson found obvious chemistry with Carl Soderberg last season. If you can keep from messing with that, then wouldn't it better to have three solid lines, including Patrice Bergeron's line that features the chemistry between the center and winger Reilly Smith?
And you don't want to move Dan Paille from the fourth line. He has been called the fastest skater on the team, but he cannot score goals. He has bricks for hands despite his speed, never scoring more than 10 goals in a season since joining the Bruins. I know he hasn't been working with Sidney Crosby to set him up for scoring opportunities, but it seems like you'd rather have Soderberg and Eriksson stick together if you can.
The fact is that Pastrnak's obvious speed and apparent hockey make him useful to a play maker like Krejci, even if the 18-year-old lacks experience. If the Bruins experimented with this combination, things might work out.
Pastrnak's inexperience might keep him from making the team after all. If he can actually keep up, though, he could be add some of the speed the team is missing and make the line situation work out without the need to speed a lot of money on a free agent- don't forget, his cap hit would only be $925,000.
Love Reading About Hockey?

Subscribe to keep up-to-date with the latest and most interesting hockey news!
| | |
| --- | --- |
| | We hate spam just as much as you |